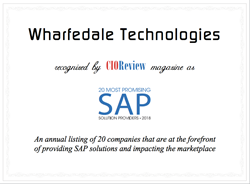 "Wharfedale is among the 20 companies at the forefront of providing SAP solution"
PRINCETON, N.J. (PRWEB) May 30, 2018
Wharfedale Technologies Inc., a leading SAP Cloud Transformation consulting firm, has been recognized by CIO Review Magazine as one of the "20 Most Promising SAP Solution Providers - 2018"
Wharfedale Technologies helps organizations currently deploying SAP solutions migrate their infrastructure to the cloud. With Wharfedale's Zero Dollar Down Monthly Subscription Model, organizations receive the benefits of a simplified cloud migration process, 24/7 managed services, as well as cloud disaster recovery services.
In addition to providing cloud solutions, Wharfedale administers an Executive Leadership team composed of SAP cloud experts to help clients enhance their SAP investments.
The 2018 CIOReview 20 Most Promising SAP Solution Providers were selected by a panel consisting of CEOs, CIOs, CTOs, and the editorial team at CIOReview. This panel evaluated hundreds of SAP solution providers and selected the firms which exhibited the most extensive knowledge in delivering a wide range of SAP solutions.
"We seek to better serve our customers through innovation," said Ganesh Radhakrishnan, CEO of Wharfedale Technologies. "Doing so enables us to create innovative cloud solutions for our clients. We're pleased to be recognized by CIOReview for this commitment."
Wharfedale Technologies has made rapid strides in the SAP ecosystem with their experience and by their close collaboration with Microsoft's SAP on Azure Global Black Belt team, assisting organizations to navigate through the SAP cloud migration process. As experts in SAP digital transformation, Wharfedale takes the complexity out of cloud transformation to help clients achieve the agility and flexibility their businesses demand as well as the security and cost savings they also require.
About Wharfedale Technologies Inc. 
Wharfedale Technologies Inc. (WFT) is a leading technology consulting firm specializing in infrastructure integrations and cloud services in support of SAP solutions including upgrading to SAP HANA and migrating SAP S/4HANA to Microsoft Azure, as well as private/public hybrid cloud solutions. Wharfedale is a certified provider of SAP hosting, infrastructure and cloud services, and Microsoft Gold Partner for Cloud Platform. Wharfedale offers solutions for high availability, disaster recovery, advanced sizing for virtualization, backup/recovery integration, systems refresh automation and landscape optimization.
For more information on Wharfedale and WFT Cloud services, please visit http://www.WFTCloud.com or call us at (888) 533-3113.