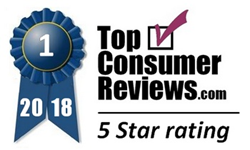 American Residential Warranty leads the pack when it comes to the best home warranty plans. We're pleased to give them our highest rating in 2018.
OVERLAND PARK, Kan. (PRWEB) June 01, 2018
TopConsumerReviews.com recently gave their best-in-class 5 star rating to American Residential Warranty, a leader among providers of Home Warranties.
What is one factor that often stops prospective buyers from making an offer on a home? Fear of costly repairs. Owning a home is definitely expensive; beyond the typical maintenance and utilities, having to fix things that break or simply wear out over time can strain the wallet and cause no small amount of stress. Buying a Home Warranty - either as a home seller who wants to offer peace of mind to a buyer or as a current homeowner wanting to minimize financial risk - is a popular way to protect against unexpected repair costs. Those who are considering a Home Warranty contract should be careful to read all of the fine print; warranties vary widely in terms of what is covered and what is excluded, and most have a deductible and/or service call fee when repairs are necessary.
"American Residential Warranty covers your home's systems and appliances at a price you can afford," explained Brian Dolezal of TopConsumerReviews.com, LLC. "One thing we really liked about American Residential Warranty is that you can count on them to be there when you need them. Their representatives are available 24 hours a day, 365 days a year with state-of-the-art call centers and immediate service for emergency situations. When it comes to their technicians, they pre-screen their licensed service providers to ensure high quality customer service. With a stellar reputation, and hundreds of glowing customer reviews, American Residential Warranty leads the pack when it comes to the best home warranty plans. We're pleased to give them our highest rating in 2018.
To find out more about American Residential Warranty and other providers of Home Warranties, including reviews and comparison rankings, please visit the Home Warranty category of TopConsumerReviews.com at https://www.topconsumerreviews.com/home-warranty/.
About American Residential Warranty
American Residential Warranty is a national company that serves customers in all 50 states. Our corporate office is located in Boca Raton, Florida and we are A+ rated by the Better Business Bureau. Our extensive suite of products includes home warranty plans, electronics protection plans and home security systems. Our partners include some of the largest service providers, such as TWG Home Warranty Services, AmTrust Financial Services, and Asurion.
About TopConsumerReviews.com
TopConsumerReviews.com, LLC is a leading provider of reviews and rankings for thousands of consumer products and services. From Home Warranties to Background Checks and Home Security Systems, TopConsumerReviews.com delivers in-depth product evaluations in order to make purchasing decisions easier.