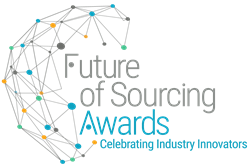 ...with insight into every part of the business, the sourcing function is uniquely poised to make a transformative impact.
JACKSONVILLE, Fla. (PRWEB) May 31, 2018
SIG, the premier membership organization for sourcing, procurement and outsourcing today announces that the deadline for submissions to its inaugural Future of Sourcing Awards is June 8, 2018. Nominations are being accepted in eight team categories and celebrate companies that are transforming, innovating and leading the sourcing and outsourcing industry in the following areas:

Sourcing
Outsourcing
Third Party Management
Supplier Performance
Digitization
Governance/Compliance
Talent Management
Sustainability
The companies that win these awards will represent the best example of innovation in each category, showing the greatest achievement in terms of fundamentally changing the nature of their business. The event will also honor two individuals in the Rising Star and Sourcing Star categories for demonstrating ingenuity, initiative and innovation in their careers.
"The world of sourcing is often not seen as an area that creates innovation," says Dawn Tiura, President and CEO of SIG. "Yet, with insight into every part of the business, the sourcing function is uniquely poised to make a transformative impact. These awards recognize not only those service providers who are creating innovation, but also—and perhaps more importantly—the practitioner organizations that are breaking through barriers with groundbreaking solutions to everyday issues."
"We are delighted to be able to celebrate these companies that are creating change and elevating the industry," adds Sarah Holliman, SIG's Chief Marketing Officer. "We are humbled by the outpouring of interest in this program from some of the most globally-recognized companies in the world and look forward to honoring the nominees and finalists this fall."
More information can be found about the nomination process, selection criteria and entry requirements on the Future of Sourcing Awards website. Sourcing professionals on the buy-side and the service provider-side are encouraged to look closely at their business functions and relationships and submit a nomination on their own behalf, on behalf of a team or on behalf of a partner that has helped transform their business.
About SIG
SIG, http://www.sig.org is a membership organization that provides thought leadership and networking opportunities to executives in sourcing, procurement and outsourcing from Fortune 500 and Global 1000 companies and the advisors who serve them. SIG is widely known as a forum for sharing "next" practices and thought leadership through live networking events, virtual forums and a comprehensive online SIG resource center (SRC), which was developed by and for professionals in sourcing and outsourcing. The organization is unique in that it blends practitioners, service providers and advisory firms in a non-commercial environment. SIG is also the parent organization for SIG University, a one-of-a-kind certification and training program for professionals and executives seeking deep expertise in sourcing and governance for themselves or their teams, as well as Outsource, which provides unrivaled digital content for the opinion-formers and decision-makers at the heart of the outsourcing space.