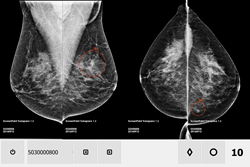 NIJMEGEN, The Netherlands (PRWEB) May 31, 2018
ScreenPoint Medical, a medical imaging company developing artificial intelligence (AI) solutions for early detection of breast cancer, announces today that it has raised €4.3 million in a new financing round to accelerate market introduction and further development of its products. The financing was led by Siemens Healthineers with additional participation of private investors.
Using deep learning in combination with large well-curated image databases, ScreenPoint is developing Transpara, a unique solution for facilitating and improving the reading of mammograms. Standalone performance of the system is similar to that of radiologists, and a recent study demonstrates that when radiologists use Transpara their detection performance improves. The system, which also has potential to reduce workload, has regulatory approval in Europe for mammography and digital breast tomosynthesis.
"Interpreting mammograms is one of the most challenging tasks in radiology and a shortage of skilled radiologists exists in many regions around the world. While breast cancer incidence continues to rise, innovative artificial intelligence solutions are needed to ensure that the high quality of screening programs can be maintained", says Nico Karssemeijer, CEO of ScreenPoint.
The investment of Siemens Healthineers marks the beginning of a strategic collaboration between the companies in the field of breast imaging with the aim to expand precision medicine. "We are very excited about the opportunity to partner with Siemens Healthineers in creating and delivering best-in-class services to customers to improve women's health. The partnership enables accelerated market introduction of Transpara, which will remain a vendor neutral solution for breast screening".
About ScreenPoint Medical
ScreenPoint was founded in 2014 as a spin-off from Radboud University Medical Center in Nijmegen, The Netherlands, to develop and bring to the market innovative machine learning solutions to improve breast cancer screening and diagnosis. With a strong and experienced team of scientists, ScreenPoint developed the AI system Transpara, which matches the performance of experienced radiologists in detecting breast cancer in screening mammograms. ScreenPoint now focuses on expanding its technology and creating integrated solutions to enable radiologists to achieve the highest quality in an environment that is increasingly demanding.
https://www.screenpoint-medical.com
Contact Information:
Chris Land
chris.land(at)screenpointmed.com
tel. +31 24 202 00 20