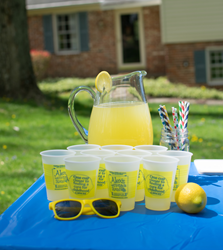 "We love meeting new people who stop by to donate," said Tara Walters, All Star stand host and childhood cancer mom. "It is great to be able to educate them about pediatric cancer and what Alex's Lemonade Stand Foundation is doing to make a difference."
PHILADELPHIA (PRWEB) May 30, 2018
Alex's Lemonade Stand Foundation (ALSF), a nonprofit dedicated to finding cures for all kids with cancer, invites volunteers of all ages across the country to host lemonade stands during Lemonade Days (June 2-10). This national volunteer-driven fundraiser commemorates ALSF founder Alexandra "Alex" Scott's challenge to help her raise $1 million for childhood cancer cures, one cup of lemonade at a time. Volunteers are invited to host lemonade stands on any day during the first full week of June to continue Alex's mission and bring renewed attention to the fight against childhood cancer.
Lemonade Days began in 2004 when Alex set her sights on raising $1 million to fight childhood cancer, the disease she had been fighting since she was an infant. Alex invited volunteers to join her in hosting lemonade stands to help achieve her ambitious goal. With their help, Alex would reach her million dollar goal before losing her life to cancer in August 2004. Since then, Lemonade Days has raised more than $14 million through 26,000 stands and events.
This year, ALSF introduced the 2018 Lemonade Days All Stars, who are stand hosts that went above and beyond during 2017 Lemonade Days to make their lemonade stands successful. Their amazing efforts paid off for kids with cancer, as each of these stands raised $2,000 or more – just like Alex did at her first stand back in 2000. All Stars were asked to share their stand stories and secrets to success on the ALSF website.
"We love meeting new people who stop by to donate," said Tara Walters, All Star stand host and childhood cancer mom. "It is great to be able to educate them about pediatric cancer and what Alex's Lemonade Stand Foundation is doing to make a difference."
In addition to the 2018 Lemonade Days All Stars enlisting the help of their communities and the thousands of volunteers across the country hosting lemonade stands and events, people looking for other ways to support the movement can get involved by visiting a local lemonade stand, supporting one of ALSF's sponsors' fundraisers or show support through social media by using #LemonadeDays.
With Lemonade Days extended to a full week in 2018, there is still time to sign up and host an event. To register an event, visit LemonadeDays.org.
About Childhood Cancer
Childhood cancer is a general term used to describe cancer in children occurring regularly, randomly and sparing no ethnic group, socioeconomic class, or geographic region. Childhood cancer extends to over a dozen types of cancers and a countless amount of subtypes. Just a few of these cancer types include: Ewing sarcoma, glioma, leukemia, lymphoma, medulloblastoma, neuroblastoma, osteosarcoma, retinoblastoma, rhabdomyosarcoma and Wilms' tumor. In the United States, childhood cancer is the leading cause of death by disease in children under the age of 15. Every day, approximately 250 kids around the world die from cancer, accounting for 91,250 losing their lives to the disease every year.
About Alex's Lemonade Stand Foundation
Alex's Lemonade Stand Foundation (ALSF) emerged from the front yard lemonade stand of cancer patient Alexandra "Alex" Scott (1996-2004). In 2000, 4-year-old Alex announced that she wanted to hold a lemonade stand to raise money to help find a cure for all children with cancer. Since Alex held that first stand, the Foundation bearing her name has evolved into a national fundraising movement, complete with thousands of supporters across the country carrying on her legacy of hope. To date, Alex's Lemonade Stand Foundation, a registered 501(c)3 charity, has raised more than $150 million toward fulfilling Alex's dream of finding a cure, funding over 800 pediatric cancer research projects nationally. In addition, ALSF provides support to families affected by childhood cancer through programs such as Travel For Care and SuperSibs. For more information on Alex's Lemonade Stand Foundation, visit AlexsLemonade.org.