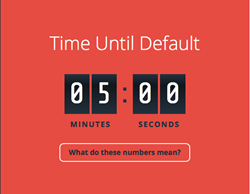 (PRWEB) June 01, 2018
The Seniors Center has funded an Early Warning System to warn policymakers about the growing danger of default on the U.S. National Debt. The Debt Default Clock, an initiative of Compact for America Educational Foundation, is designed to instruct the public and motivate legislators regarding the precarious financial situation facing the United States.
The Federal Government Debt Default Clock is a tool designed by a Review Committee of economic experts--and in collaboration with The Seniors Center President Dan Perrin--to provide a barometer of our current federal debt situation.
Specifically, the Default Clock was created to provide an objective fact-based answer to one important question: how close is the U.S. to federal default?
The Default Clock continuously measures what the Committee has determined are the 10 most critical budget factors affecting the U.S. economy, including the relationship of federal outlays to gross domestic product (GDP), gross federal debt to GDP, and whether there is an enforceable debt ceiling.
Combined, the status of each of these factors at any given moment is reflected on the Default Clock as minutes from midnight.
If at least eight of the 10 factors aren't met satisfactorily, the Review Committee has agreed the U.S. federal government will have reached insolvency--in other words, the Clock will have struck midnight.
According to evaluations by the Default Clock Review Committee, the Debt Default Clock currently stands at five minutes from midnight.
In its legislative push to end Social Security taxes being used to pay the federal government's general debts, The Seniors Center hopes this critical tool will demonstrate to lawmakers the need to curtail the rapid spending and to end the creation of additional substantial federal debt that endangers the future of the Trust Fund.
"The fact is there is no Trust Fund," said Perrin, "and to the extent there is anything in the Trust Fund, it is U.S. government issued IOUs. To be clear, there is debt in the Trust Fund."
"Therefore the U.S. government's credit rating and theoretical default on Trust Fund 'investments' could have a direct bearing on future Social Security payments."
Made possible by a grant from The Seniors Center, the Debt Default Clock aims to give the public an accurate unbiased way to track how our country's budgetary and economic practices are affecting our nation's overall fiscal health--especially how close our current policies are bringing us to default.
As stated on the official Debt Default Clock website, "its purpose is to spur fiscal policymakers to change course before it's too late."
For more information on the Debt Default Clock, its Review Committee, and how the Clock's current position is calculated, visit the Debt Default Clock website.
To learn more about Dan Perrin and The Seniors Center, please visit The Seniors Center website.