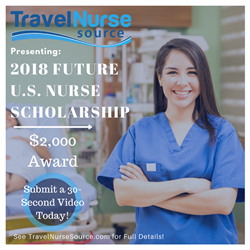 The industry needs young people, and we know college isn't cheap. We're hoping a video campaign will be a lot of fun for everyone
LANCASTER, Pa. (PRWEB) June 01, 2018
TravelNurseSource is running its 2018 "Future U.S. Nurse Scholarship" campaign from June 1 through October 5. During that time nursing students have the opportunity to submit a 30 second to one minute selfie video that tells who they are, why they want to become a nurse and what impact winning money would have on them. Those who submit the most compelling videos will move on to a finalist competition that will allow people to vote online for the ultimate winner. The scholarship recipient will be announced on November 16.
Other than being a first-time nursing student, there are additional criteria to apply for this scholarship such as U.S. residency, being 18 years of age or older and having a cumulative GPA of 2.5 or better. In order to receive scholarship money, the student will need to prove enrollment and provide documentation of an outstanding balance.
This is the second year that TravelNurseSource conducted a nursing scholarship campaign. Last year the "Future U.S. Nurse Scholarship" was an essay competition, and two nursing students each received $2,000. This year TravelNuresSource is switching it up with a video competition and one lucky winner.
"We're hoping that by switching to a selfie video campaign, it will encourage younger generations to participate," said TravelNurseSource President Oliver Feakins. "The industry needs young people, and we know college isn't cheap. We're hoping a video campaign will be a lot of fun for everyone."
TravelNurseSource's mission is to help fill the nurse staffing gap throughout the country, and its annual "Future U.S. Nurse Scholarship" is one of the ways it supports that mission. Find more details on the 2018 "Future U.S. Nurse Scholarship" at TravelNurseSource.com.
TravelNurseSource is an industry-specific website that focuses on connecting healthcare staffing agencies with travel nurses through unique marketing and promotional opportunities. TravelNurseSource is operated by Track5Media, LLC, which is a privately-held technology company based in Lancaster, Pa. As a corporate holding company, Track5Media owns a network of industry-specific websites. Along with TravelNurseSource, it also maintains AlliedTravelCareers, LocumJobsOnline, AllPhysicianJobs, and AllTruckJobs. The brands are designed to help clients find a steady stream of highly qualified referrals. With a strong concentration in healthcare recruitment advertising, Track5Media is expanding into other verticals and seeking new partnerships. From referral generation to job boards to online advertising, Track5Media websites feature outstanding resources designed to complement and enhance existing marketing initiatives for its clients across the nation. Learn more at Track5Media.com.