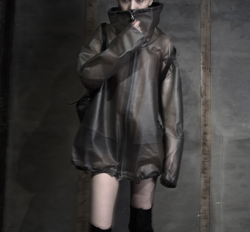 NEW YORK (PRWEB) June 01, 2018
Tanners and designers alike have long sought after a way to make transparent leather, and a new development has made that possible at last. Previously, smaller hides such as goat and sheep could be made transparent, but the resulting leather was hard as parchment, and was ruined if it got wet.
Over the last three years, a small team of innovators has been studying the ancient tanning techniques of the Greeks and Egyptians. The team found a break through by merging these with modern industrial processes.
The resulting material is a soft, transparent cow-skin leather that is both pliable and strong. This revolutionary material can be seen in some of the latest arrivals from ISAAC SELLAM leather at the avant-garde fashion boutique Hotoveli in the West Village of New York City.
The new material merges the classic beauty of cow-skin leather with futuristic transparency while being easily workable, and water protectant. It can be used for anything from bags to shoes and jackets.
"The technique of keeping the leather soft, is obviously a trade secret," states the head of the tannery. "It came out of the challenge of rethinking leather aesthetics in terms of both visual and touch properties. We asked ourselves: 'What would be the Holy Grail of leather?' I would say it would be creating a futuristic material that still maintains the properties that we know, love, and require from leather. So the aim became translucent leather. We have been deeply inspired by what other designers and tanneries have achieved in the realm of transparent and translucent leathers over recent years. But our aim was to identify concrete ways we could combine our deep tanning experience with the significant horsepower of our state-of-the-art R&D facility to push the technology forward, solving practical issues that have eluded the industry up-to-now like lasting pliability and the ability to get wet."
The material is named APPARITION because of the spectral qualities of the see-through leather. This is only the start of the innovation that will come with this material, as new color and texture possibilities will emerge in the future as well.