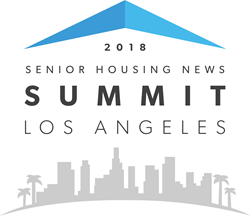 CHICAGO (PRWEB) June 01, 2018
Senior Housing News (SHN) is pleased to announce its first Los Angeles Senior Living Summit on Thursday, September 6, 2018. Thought leaders from leading operators, capital providers, developers, healthcare companies and technology providers will convene for an exclusive, intimate half-day event to discuss trends, innovations and opportunities shaping today's senior living industry.
The L.A. Summit will draw attendees interested in senior living, skilled nursing, home health care and post-acute care from across the United States. The Summit is a must-attend for those looking to enhance their knowledge and expertise and network with professionals serving the senior living industry.
The event will be held at the W Hotel in Hollywood from 8 a.m. to 12:30 p.m. and includes four panels that will address:

The impact of consumer devices and technology on senior living communities
Strategies and insights for operators to position themselves for managed care and new payment structures
Operating initiatives to excel in today's staffing environment
Industry views and perspectives from leading C-Suite executives
Confirmed speakers include:
Wendy Simpson, CEO, LTC Properties, Inc.
Shamim Wu, COO, Elmcroft Senior Living
Sarabeth Hanson, President & CEO, Harbor Retirement Associates
Talya Nevo-Hacohen, Chief Investment Officer, Sabra Health Care REIT
Patrick Dooley, COO Milestone Retirement
Bryan Fuhr, Vice President, Connected Health, GreatCall
Ginna Baik, Senior Care Practice Leader, CDW Healthcare
Limited space is available, purchase your ticket here.
For more information on how to be part of the L.A. Summit, or to inquire about sponsorship opportunities, visit our website or email us at info@seniorhousingnews.com.
The L.A. Summit is part of SHN's national events schedule that includes forums in Chicago, Washington, D.C. and specialty events, such as Dished.
About Aging Media Network / Senior Housing News
Aging Media Network is a digital media company based in Chicago, Illinois, and is the publisher of Senior Housing News, Skilled Nursing News, Reverse Mortgage Daily and Home Health Care News.
Senior Housing News is the leading independent source for news and information covering senior housing and senior living.
SHN's audience includes senior housing operators, developers, banking institutions, real estate investment trusts, private equity and service providers catering to the industry. Visit https://seniorhousingnews.com for more information.