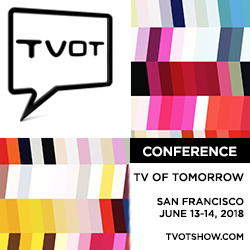 "TVOT is one of a kind," said Mike Chen, star of the hit YouTube show, Strictly Dumpling. "There's nothing like it, and that's why I'm back again."
SAN FRANCISCO (PRWEB) May 31, 2018
InteractiveTV Today (ITVT), the most widely read and trusted news source on multiplatform interactive and social TV, today announced that its prestigious TV of Tomorrow Show (TVOT) will return to San Francisco with what might be its most impressive lineup of industry trail blazers yet. Showcasing the full ecosystem of television and video, TVOT will bring together leaders in advanced-advertising, big data, broadcasting, content-production, social media, technology and much more to discuss today's innovations and what's next for tomorrow. TVOT will take place June 13-14 at the Golden Gate Club in the Presidio of San Francisco: http://tvotshow.com.
Among TVOT's 150+ speakers this year will be such luminaries as:

Andre Swanston, CEO, Tru Optik
Anne Schelle, Managing Director, Pearl TV
Arthur Orduna, Chief Innovation Officer, Avis-Budget
Caressa Douglas, SVP of Global Strategic Partnerships, Branded Entertainment Network
David Bohrman, CEO, Political Voices Network
Joanna Popper, Global Head of Virtual Reality for Location-Based Entertainment, HP
Juan Delgado, CEO, Perform Media
Kalen Egan, Producer ("Man in the High Castle," "Philip K. Dick's Electric Dreams")
Marci Ryvicker, Managing Director, Wells Fargo Securities
Mike Chen, Host, "Strictly Dumpling" (YouTube star)
Peter Dolchin, Head of Telco and Video Distributor Partnerships, Google
Randall Keenan Winston, Co-Executive Producer, "Roseanne," "Grace and Frankie,"
Rob Weisbord, Chief Revenue Officer, Sinclair Broadcast Group
Sandeep Gupta, VP of Smart TV and Home Products, Amazon
Shannon Pruitt, Chief Content Officer, Carat USA
Shereta Williams, President, Videa
Thom Hartmann (Named the Most Successful Liberal Talk Show Host in the US by Talkers Magazine)
Tosca Musk, CEO, Passionflix
Zeev Neumeier, Founder, Inscape
"At ITVT, we pride ourselves on creating open, interactive discussions with innovators and disruptors who are shaping the future of television, video and advertising," said Tracy Swedlow, Co-Producer of The TV of Tomorrow Show. "This year's speakers are truly game changers and what we discuss at the show will be what becomes the television norm. These discussions will go on beyond the panels and keynotes – they continue in the halls, they continue in the breaks. It's nothing short of inspiring.
"TVOT is one of a kind. The speakers really ignite dialogue and I've had fascinating conversations with others in our ecosystem," said Mike Chen, star of the hit YouTube show, Strictly Dumpling. "The TVOT team is committed to helping the industry move forward and helping us connect with each other. There's nothing like it, and that's why I'm back again."
TVOT SF 2018 sponsors include Inscape, Videa, TiVo, Amazon Fire TV, comScore, Lotame, IBM Watson, INVIDI, Ad-ID, Canoe Ventures, ThinkAnalytics, Applicaster, SeaChange International, nScreenMedia, The Vertere Group, Lotus Bakeries, the Interactive Television Alliance, the TVB and Breakaway Communications.
TVOT SF will also feature demonstrations of new TV and video technologies. In addition, a cocktail party will be held on the evening of June 13th, allowing attendees to network and mingle with the impressive line-up of speakers.
To register for TVOT SF, click here: http://tvotshow.com/register-tvot. To view the full lineup of speakers, click here: http://tvotshow.com/speakers.
Use the #TVOTSF hashtag to join our conversations and follow TVOT on Twitter at http://www.twitter.com/TVOTshow.
About InteractiveTV Today (ITVT):
Founded in 1998 by Tracy Swedlow and co-owned by Richard Washbourne, InteractiveTV Today ITVT is the most widely read and trusted news source on the rapidly emerging medium of multiplatform,broadband interactive (ITV) and social TV. We provide concise, original coverage of industry developments, technologies, content projects, and the people building the business to our readership, which is made up of hundreds of thousands of executives from around the world. Our Radio ITVT podcasts are available here: http://itvt.com/podcast.
For further sponsorship information or speaking opportunities, please contact:
Tracy Swedlow
tracyswedlow(at)gmail.com
For media inquiries, please contact:
Tracey Sheehy at Breakaway Communications
tsheehy(at)breakawaycom.com
Office: 212.616.6003