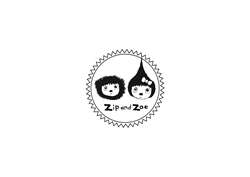 LONDON (PRWEB) June 04, 2018
Today, London based parenting accessories brand Babymel announced availability of its Zip and Zoe children's line in Barnes & Noble for Back-to-School 2018. The line, which includes coordinating backpacks, lunchies and ice packs, is designed to enable kids to carry their daily haul in colorful, comfortable and imaginative style. Zip and Zoe will be available for the first time ever in 615 Barnes & Noble stores across the U.S. and online, from June 18, 2018 through mid-September 2018.
Driven by the monochrome characters Zip and Zoe, who are set against multicolored illustrated prints, these stylishly functional kid-sized backpacks include story booklets to transport the wearer on magical adventures - whether it's off to school, day camp or their homeland of Ogg. They also boast fun charms and nametags, and are ergonomically designed for comfort with adjustable straps and a lightweight construction. For a complete set, there are also insulated lunchies with ice packs to keep food tasting - and looking - fresh and cool.
Zip and Zoe's signature prints are designed in collaboration with NYC artist Matthew Langille, who has previously joined forces with Marc Jacobs, Swatch and Adidas. The 2018 back-to-school collection at Barnes & Noble includes the super-cool Dinosaur and whimsical Unicorn prints.
15 years in the making, Zip and Zoe is the creation of Melanie Marshall and Suzi Bergman, Babymel co-owners and the duo behind the Storksak designer diaper bag line. "Our main goal is to design products that kids will love and get excited about. Young kids are highly creative and love the detailing in our products, said Marshall. "We are thrilled these products will be available among the back-to-school 2018 offerings at Barnes & Noble in the U.S."
The Zip and Zoe line at Barnes & Noble will retail for $16.95 for lunchies to $27.95 for backpacks. For more information on Zip and Zoe, please visit https://www.babymel.us/zip-and-zoe-barnes-and-noble.
About Zip and Zoe
Zip and Zoe offers high-quality backpacks, lunchies, and other accessories that combine practical function with creative design for kids of all ages. Through the products, illustrated prints, coordinating story books and the characters Zip and Zoe themselves, Zip and Zoe is built to inspire imaginative exploration while giving children the tools to move throughout their day in style and comfort. Zip and Zoe is headquartered in London and retails at Barnes & Noble, Saks, Nordstrom and Buy Buy Baby in the U.S., and in 20 countries worldwide. For more information, visit https://babymel.us. Follow Zip and Zoe on Instagram: @zipandzoe and Facebook: @BabymelUSA