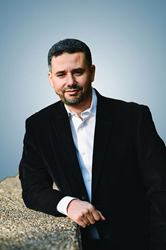 "If a small business phone system is down for even a few hours, customers may become frustrated and, ultimately, choose to do business with someone else—which directly affects the business's bottom line and, thus, the economy."
ALEXANDRIA, Va. (PRWEB) May 30, 2018
New statistics from the Commission for Complaints for Telecom-Television Services (CCTS) show that the satisfaction of small and medium-sized businesses is on a sharp decline. According to this new data, complaints from these smaller businesses have risen by 15% within the last year alone, making up 10% of all complaints against telecommunication services.1 While small and medium-sized businesses cite many different reasons for their dissatisfaction with telecom providers, annoying downtime is considered to be one of the prevalent issues behind such complaints. "In today's fast-paced world, telecom systems are vital to a business's success or failure," explains Amr Ibrahim, CEO of ULTATEL and long-time supporter of small businesses. "A company with a smaller employee base can be completely thrown off by telecom downtime, leading it to voice its complaints to the CCTS; telecom providers must do everything within their power to make sure their clients experience little to no service downtime."
While businesses have always known that downtime has the potential to wreak havoc on a day's productivity, new data is showing that downtime can do more than just frustrate employees. Small and medium-sized businesses estimate that they lose around $55,000 per year due to technological downtime.2 While this may not be much when compared with large businesses, such losses can break small organizations that are trying to get a good start in their industry.3
"If a small business phone system is down for even a few hours, customers may become frustrated and, ultimately, choose to do business with someone else—which directly affects the business's bottom line and, thus, the economy," said Ibrahim. "What might seem like a mildly annoying two hours of downtime every few weeks could actually cost a business thousands of dollars in revenue annually."
With small and medium-sized businesses comprising the backbone of the U.S. economy, downtime leading businesses to close their doors can be devastating. Rather than simply trying to recover losses after downtime, small and medium-sized businesses are being urged to avoid such losses altogether by choosing telecom systems which have a lower risk of failure.
The Uptime Institute provides businesses of all sizes with a ranking system that puts data centers such as telecom systems into one of four tier categories.4 Data centers that are rated as Tier I are more likely to encounter downtime, while those in the higher categories are less likely. Tier IV-rated data centers are the least likely to encounter problems, experiencing only 26.3 minutes of downtime annually.4 For small and medium-sized businesses to perform with the least amount of interruptions, Tier III or Tier IV telecom systems are necessary.
ULTATEL is a business VoIP phone service provider working hard to reduce downtime and increase satisfaction among its customers. The data center provided by ULTATEL offers 2N+2 redundancy, nearly twice as much as other standard Tier III centers to ensure that businesses using ULTATEL do not encounter unnecessary downtime with their VoIP business phone service. Unlike many other providers, ULTATEL's system is monitored by on-site Operations Control Center engineers 24/7, providing its customers with total reliability.
Experiencing telecom downtime can cost small and medium-sized businesses thousands of dollars every year, while also causing frustration and a lower work ethic among employees. ULTATEL stands apart from its competition in providing consistent, reliable VoIP phone service, giving businesses of all sizes the tools they need to succeed.
About ULTATEL
ULTATEL is a leading provider of cloud-based phone system solutions. Through its unified communications platform, companies can have all of their voice, video, fax, SMS and audio conferencing services on one affordable system. ULTATEL Business Clarity, with more than 40 enterprise-grade features, helps companies operate from a single or multiple locations seamlessly using desktop phones, softphones or mobile apps. The ULTATEL Contact Center solution satisfies the need for call center features such as advanced Interactive Voice Response (IVR), call queuing, skilled/time based routing, and advanced call analytics.
ULTATEL's vision is to completely change how companies conduct business by delivering the most comprehensive suite of unified cloud-based telephony services, dramatically improving responsiveness, increasing productivity, enhancing globalization efficiencies, and reducing operating costs so that businesses can most effectively compete both today and in the future. Visit https://www.ULTATEL.com/.
1. "Small Businesses Now Represent 10% of All Telecom Industry Complaints: CCTS." IT Business, http://www.itbusiness.ca/news/small-businesses-now-represent-10-of-all-telecom-industry-complaints-ccts/96901.
2. "How To Avoid Costly IT & Telecom Downtime." Total Communication Services Inc, 4 Oct. 2017, http://www.totalcomm.ca/avoid-costs-telecom-downtime/.
3. Martin Perlin. "Downtime, Outages and Failures—Understanding Their True Costs." Martin Perlin, http://www.evolven.com/blog/downtime-outages-and-failures-understanding-their-true-costs.html.
4. Colocation American Staff. "Data Center Tier Rating Breakdown—Tier 1, 2, 3, 4—CLA." Colocation America, Colocation American Staff, 19 Apr. 2017, http://www.colocationamerica.com/data-center/tier-standards-overview.htm.