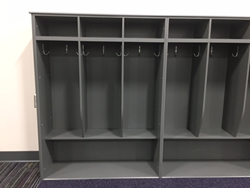 "Scranton Products' cubbies are easy to clean, monitor, and air out," said Jodi Nelson, project architect at Ayres Associates. "Scranton Products worked with us to design cubbies that resist scratches, graffiti, and water damage as well as resist noise, dings, and rust unlike metal lockers."
SCRANTON, Pa. (PRWEB) May 31, 2018
Ellsworth, WI, recently held the grand opening of its new $26 million elementary school dedicated to the education of more than 600 4k-5th graders. The design of the 113,00 sq. ft, two-story facility is based on a collaborative teaching model with shared used spaces located at the core of the building, including a central common area containing cubbies designed by Scranton Products.
"Flexible, adaptable learning environments were fundamental to the design," says Jodi Nelson, Project Architect at Ayres Associates in River Falls, WI. "Bright, open spaces with large common educational areas were created to facilitate a variety of group and individual teaching configurations."
The school's modern design features blocks of red and cream-colored brick and large expanses of glass curtainwall on the exterior and an interior combining neutral-colored flooring and walls with pops of color in bold blues, greenish-yellows and magenta. Amenities include state-of-the-art building technologies as well as a spacious cafeteria, open media center, full-size gym with bleachers, and more than 960 gray student cubbies positioned at the entrance to each classroom wing. The HDPE cubbies were custom designed by Scranton Products to individually store the books and belongings of each student, including wet winter boots and snow gear.
"We wanted open cubbies that were easy to clean, monitor, and air out," explains Nelson. "We also didn't want the noise, dings, and rust associated with metal lockers. Scranton Products worked with us to design cubbies that will resist scratches, graffiti, and water damage for years. This was imperative since every student, no matter their age, has their own cubby."
"Scranton Products provided a no-maintenance, clean-looking locker solution," adds John Groh, Ellsworth Elementary school's principal. 'We were especially impressed with the strong quality and functionality of all of the cubbies, which we expect to last for a very long time in extremely demanding circumstances."
To learn more about Scranton Products' HDPE partitions, lockers and cubbies please visit http://www.scrantonproducts.com or call 800-445-5148.
About Scranton Products:
With more than 30 years of experience, Scranton Products provides "Innovative Solutions for a Better Future," with innovative, creative designs that create a lasting impression. The industry leader in plastic bathroom partitions and lockers, Scranton Products bathroom partitions and lockers are constructed from premium, American-made solid plastic for unmatched durability that stands up to dents, scratches, corrosion, graffiti and mildew. When you purchase Scranton Products, you are investing in peace of mind. With endless design options and an array of designer colors and textures, Scranton Products installs confidence and elegant style in every project.