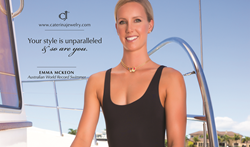 We want to inspire women to embrace their individuality and express it through unique jewelry stylings
LOS ANGELES (PRWEB) June 01, 2018
California-based jewelry designer Caterina Jewelry announced today that they were awarded a patent for their Minimalista Collection from the United States Patent and Trademark Office. The newly patented jewelry collection was first launched in 2016, and has been frequently spotted as part of numerous celebrities' and influencers' outfits.
Designed to showcase sleek, simple outlines on a par with the current minimalist modernist trend, the Minimalista Collection draws inspiration from the company's earlier CJ Cham Collection. The Minimalista Collection features the company's signature .925 sterling silver coin-shaped pendant encrusted with Swarovski crystals in twelve dazzling colors, as well as a delicate 2mm .925 sterling silver snake chain with a unique oval clasp engraved with the CJ logo.
"One of the truest highlight about the Minimalista Collection is the distinctly geometric aesthetic of the pieces," says Cathy Barouch, co-founder and head designer of Caterina Jewelry. "We reimagined the CJ Charm Collection, a CJ classic, into an exquisite design that artfully blends elements of elegant modernism with the simplicity of minimalist jewelry. The result was a series of dainty pieces that look just as good on their own as they do when stacked together."
The newly patented Minimalista Collection has been featured as part of the company's latest campaign, Your Style Is Unparalleled and So Are You, which highlighted ambitious and highly accomplished women. Among them were world-renowned Australian athletes, swimmers Emma McKeon, Madison Wilson, and Georgia Bohl, whose outfits had been accented with bouquets of Minimalista Collection bracelets and necklaces arranged to resemble five colored rings. Model and actress Hannah Kat Jones was featured in the campaign.
"The Minimalista Collection is not only a style statement, but a symbol of individuality. At Caterina Jewelry, we want to inspire women to embrace their individuality and express it through unique jewelry stylings," states Lara Korhammer, co-founder of Caterina Jewelry.
The Minimalista Collection consists of double-wrap bracelets and single-wrap necklaces with chains available in .925 sterling silver and leather, and .925 sterling silver stud earrings featuring colored Austrian crystal centerpieces. Suited for both fashion-conscious and minimalist women, the collection is perfect for multi-layered stacking, and can be mixed and matched to create unique jewelry stylings for any occasion.
About Caterina Jewelry
Caterina Jewelry designs masterpieces that tell the story of every woman's unique style and intriguing personality, both reflected in the timeless quality and innovative edge of the creations. A company profoundly dedicated to setting higher industry standards, Caterina Jewelry launches one-of-a-kind collections boasting not only a modern aesthetic that transcends time and trends, but also ingenious designs that reinvent classic jewelry pieces — all set to become the jewelry staples of tomorrow. Caterina Jewelry invented the Charm Opener®, a groundbreaking, patented tool that unclasps all brands of charm bracelets and necklaces with a simple click.