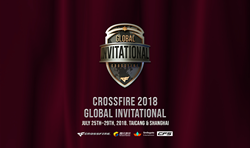 TORONTO (PRWEB) June 01, 2018
Smilegate Entertainment has announced that 'CROSSFIRE 2018 Global Invitational (CFGI 2018)' will take place in July at Taicang-Shanghai, China to determine the final champion amongst the global CROSSFIRE pro league champions.
As this tournament is held a third time in three consecutive years, the top 2 Chinese teams from CROSSFIRE Pro-league tournament (CFPL), the pro-league champions of CFEL Season 1 in Brazil, the Philippines, and Vietnam, and one team qualified for an invitation from the North American region known as 'Carbon' (previously known as 'STDx') will join together to compete in this global invitational tournament. A total of 6 teams from all over the world will be challenging each other for the CFGI championship title.
The tournament will be held for 5 days starting from July 25th to the 29th, and the group preliminary and semi-final rounds will progress through the 25th to the 27th in Taicang. The Grand Final match will be held in Shanghai on July 29th, which will determine the final champion team of the tournament. The total prize money is $100K (USD) and the champion team will be rewarded $50K (USD) of the total share.
CF Mobile Invitational which has been a recent success in Vietnam, will also be held in this tournament. Currently, a total of 4 teams from Korea, China, Vietnam and Thailand will be attending the tournament, with the total prize money of $50K (USD). It is the fourth CF Mobile Invitational tournament since its first, and its size and recognition has been continuously growing.
"CFGI is the main tournament that will highlight the performance of the best playing pro league teams that have potential to be the champion of CROSSFIRE STARS," said Brady Yeo, Head of CROSSFIRE eSports in Smilegate Entertainment. "As it is known as one of the most prominent tournaments hosted before CROSSFIRE STARS which will be held at the end of this year, we hope all fans can continue to provide their support and interest."
Further details on CFGI 2018 can be found in the official website (http://www.crossfirestars.com/)