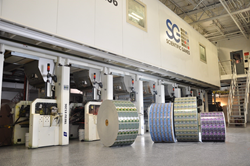 "Very few members of the public have ever had the opportunity to tour Scientific Games' global lottery headquarters," said Jason Moss, CEO of the Georgia Manufacturing Alliance.
ATLANTA (PRWEB) May 31, 2018
The Georgia Manufacturing Alliance is the most active group of industry professionals across the state and has offered over 55 events so far this year. These activities range from monthly networking groups to a rich mix of events for each level of employee in the manufacturing space. Upcoming events for June include:
Murray Plastics Plant Tour • June 6 • Gainesville
Murray Plastics is a custom injection mold builder and maker of plastic injection molded components used in industrial, welding, and packaging applications. They have decades of experience in design, tooling, and manufacturing. Their capabilities include 2D and 3D modeling and their production department can mold parts in the dozens or millions of units. They work with a variety of materials including ABS, polyurethane, and thermoplastic. BONUS SESSION: Disruptive Technologies Lunch & Learn – This unique opportunity will introduce the latest technology ideas affecting every major industry. Hear from some of the world's leading companies about the trends to track.
Workers Compensation Best Practices To Protect Your Business • June 12 • Atlanta
With over 20 years' experience in risk management, Allan Webb with Snellings Walters will present an interactive and thought-provoking seminar on workers compensation best practices which will address a sound workers compensation program through the life cycle of an employee from pre-hire, to post hire, to claims management. Attendees will be challenged on the question – "How confident are you in your process to manage your company's workers compensation expense?" Breakfast is included.
Georgia Manufacturing Day & "Buy from GA" Month • June 20 • State Capitol (9:30 am )
Network with over 100 manufacturing leaders from around the state and join GMA members to receive the 5th "Buy From Georgia Month" Proclamation from Governor Deal. This Proclamation promotes manufacturers in our state and the 1,000s of consumer-based products that are produced in Georgia. After networking attendees will assemble in the State Capitol foyer for a photo with Governor Deal. This photo will appear on the front cover of the July Edition of the Georgia Manufacturing Directory. There is NO CHARGE for the event, but registration is required.
Scientific Games Plant Tour • June 27 • Alpharetta
Very few members of the public have ever had the opportunity to tour Scientific Games' global lottery headquarters. From the highly secure 385,000 sq. ft. campus, they provide games, technology, and services to nearly every North American lottery – including the Georgia Lottery, which is ranked No. 2 in the world for instant game sales per capita. This facility is the largest of the company's five instant game manufacturing facilities with over 1,000 employees on site. Attendees will see where lottery instant games are designed, programmed, manufactured, and packaged for shipment to lotteries and their retailers using a process so highly secure that no one knows where the "winning" tickets are located.
The Georgia Manufacturing Alliance (GMA) is a membership-based industry organization founded in 2008 to support Georgia's manufacturing community. GMA provides monthly plant tours, educational sessions, trade shows, and unique networking opportunities designed to help make profitable business connections for its members. The Georgia Manufacturing Directory, Georgia Manufacturing Summit, Georgia Manufacturing Calendar and BuyFromGa.com website are additional resources produced by GMA. To learn more about the organization, membership, and upcoming events, please call 770-338-0051 or visit their website http://www.GeorgiaManufacturingAlliance.com.