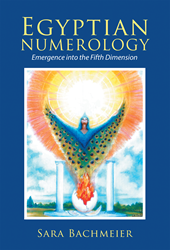 SEDONA, Ariz. (PRWEB) June 04, 2018
An Egyptian numerology instructor has released her debut educational guide that aims to help others use numerology techniques to discover areas in their lives that contain untapped potential and elevate their frequency rating so that they can maximize their unique gifts and assist in utilizing these gifts to evolve in equanimity and fulfill their soul contracts.
In "Egyptian Numerology: Emergence into the Fifth Dimension," author Sara Bachmeier, who has been charting Egyptian numerology since 2016, presents readers with an easy-to-use guide to living fully through the heart chakra and, ultimately, provides them with a clear direction in which to find and follow their divine soul lifepath, soul life purpose and destiny.
"Egyptian numerology works with a person's highest number frequencies, derived from one's birth date and birth name," Bachmeier said. "This will give you an understanding of your full potential and highest qualities possible to achieve in this lifetime. If you are already vibrating in the fifth dimension, it can be used as a geographical confirmation that you are following the right path. It's comparable to putting on a new set of prescription lenses, where suddenly, you are able to see yourself, your potential and your path in life more clearly."
Focused on equipping both spiritual students and teachers with key insights into soul nourishment, "Egyptian Numerology" offers readers a helpful tool on how to use numerology to expand, enhance and grow while evolving through the doors of the fourth dimension.
"Egyptian Numerology: Emergence into the Fifth Dimension"
By Sara Bachmeier
ISBN: 978-1-5043-9659-2 (hardback); 978-1-5043-9657-8 (paperback); 978-1-5043-9658-5 (electronic)
Available through Balboa Press, Barnes & Noble and Amazon
About the author
Sara Bachmeier is a certified instructor in Egyptian numerology, Complete Cellular Mind Body Alignment and Activation (CCMBA), Complete Cellular Soul Memory Clearing (CCSMC) and META, a women's self-defense and empowerment program. Bachmeier has been charting Egyptian numerology since 2016 and has studied numerology all her life. She holds an associate of science degree, previously taught nursery school for 25 years and opened her own preschool in 1993. Bachmeier currently resides in Sedona, Ariz. To learn more, please visit http://www.sarabachmeieregyptiannumerology.com or http://www.egyptiannumerology.org.
Review Copies & Interview Requests:
LAVIDGE – Phoenix
480-648-7557
dgrobmeier(at)lavidge.com
General Inquiries:
LAVIDGE – Phoenix
480-998-2600 x 584
mdriver(at)lavidge.com