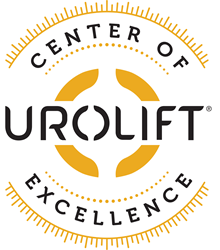 This procedure is truly changing the lives of many men.
DAVENPORT, Fla. (PRWEB) May 31, 2018
Board-certified urologist, Michael D'Angelo, M.D., with Heart of Florida Physician Group, announced today he has been designated a Center of Excellence in recognition of his work to help numerous men suffering from symptoms associated with enlarged prostate by using the Prostatic Urethral Lift treatment (PUL).
Dr. D'Angelo, who specializes in urologic issues and robotic urologic surgeries, was designated as a Center of Excellence for having achieved a high level of training and experience with PUL treatment and for having demonstrated a commitment to exemplary care for men suffering from symptoms associated with Benign Prostatic Hyperplasia or BPH.
"More than 40 million men in the United States suffer from enlarged prostate, yet only 12 million men seek treatment for their condition," said Dr. D'Angelo. "The symptoms associated with BPH range from embarrassing to life altering. Many men retreat from their normal lives due to the severity of their symptoms. This procedure is truly changing the lives of many men."
As men age, the prostate becomes enlarged and in many cases, obstructs the urethra which, can cause bothersome urinary symptoms that often worsen over time. Symptoms of BPH may include interrupted sleep and urinary problems, and can even lead to loss of productivity, depression and decreased quality of life.
When men are diagnosed with BPH, medication is often the first-line therapy, but relief can be inadequate and temporary. Side effects of medication treatment can include sexual dysfunction, dizziness and headaches, prompting many patients to quit using the drugs. For these patients, the classic alternative is surgery that cuts, heats or removes prostate tissue to open the blocked urethra. While current surgical options can be very effective in relieving symptoms, they can also leave patients with permanent side effects such as urinary incontinence, erectile dysfunction and retrograde ejaculation.
With the prostatic urethral lift, patients experience rapid improvement of symptoms without the potential side effects of either medications or traditional prostate surgery. During the treatment, tiny implants are inserted to hold the lobes of the enlarged prostate permanently open. The prostatic urethral lift is typically performed in less than an hour and patients usually go home the same day. "Men who suffer from frequency, urgency and having to get up several times during the night to urinate, or men who have trouble passing urine can benefit from this treatment,'' Dr. D'Angelo said.
Ann Barnhart, CEO of Heart of Florida Regional Medical Center, said she was very pleased with the success of the prostatic urethral lift and Dr. D'Angelo for receiving the designation as a Center of Excellence. "We are very proud of Dr. D'Angelo and all of the great things he is doing here at Heart of Florida."
For more information about the treatment or to make an appointment with Dr. D'Angelo, please call his office at 863-419-2165 or visit our web site at HeartOfFloridaPhysicianGroup.com.
Dr. D'Angelo is a member of the medical staff at Heart of Florida Regional Medical Center. Heart of Florida Regional Medical Center is owned in part by physicians.
About Heart of Florida Physician Group
Heart of Florida Physician Group is a multi-specialty medical group that believes in providing quality, compassionate health care to the communities it serves in Davenport, Haines City, Winter Haven, Lake Wales, Poinciana, and all of East Polk County. Our doctors provide care in 12 different specialties including primary care medicine, urology, orthopedics, gastroenterology and more. With same-day appointments available for most offices, you and your family receive personalized care when you need it most. Online appointments are available for select providers. For more information, visit http://www.HeartOfFloridaPhysicianGroup.com.
About NeoTract, Inc.
NeoTract's FDA-cleared UroLift® System is a novel, minimally invasive technology for treating lower urinary tract symptoms due to benign prostatic hyperplasia (BPH). The UroLift permanent implants, delivered during a minimally invasive transurethral outpatient procedure, relieve prostate obstruction and open the urethra directly without cutting, heating, or removing prostate tissue. Clinical data from a pivotal 206-patient randomized controlled study showed that patients with enlarged prostate receiving UroLift implants reported rapid and durable symptomatic and urinary flow rate improvement without compromising sexual function. Patients also experienced a significant improvement in quality of life. Most common adverse events reported include hematuria, dysuria, micturition urgency, pelvic pain, and urge incontinence. Most symptoms were mild to moderate in severity and resolved within two to four weeks after the procedure. The UroLift System is available in the U.S., Europe, Australia, Canada, Mexico and South Korea. Learn more at http://www.UroLift.com.
Media Contact:
Amy Cramer
M: 650-391-3714
Amy(at)healthandcommerce(dot)com