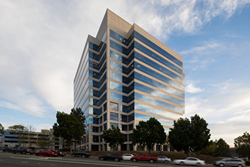 Moving to our new office space provides an exciting opportunity to reflect our values-based company culture in our physical workspace.
CULVER CITY, Calif. (PRWEB) May 31, 2018
After fourteen years of successful operations and continuous business growth, Advanced Medical Reviews is proud to announce that it has recently moved its operations to a new office location in Culver City, California.
Culver City, well known as a hub for motion picture and television production and home to Sony Pictures, will now be the new home to one of the nation's top independent review organizations in North America- Advanced Medical Reviews (AMR). Prior to the move, AMR housed its operations in Santa Monica, California, next to the bustling Santa Monica airport in the artsy Ocean Park neighborhood. The growth of the company coincides with its move to a new location.
Megan Kaufman, AMR's General Manager, played a key role in every decision required to move into this new space. "It's not often that you have the opportunity to build a workspace from scratch, so we seized this opportunity and made sure to include the input of staff members in our design choices. From a survey on preferred desk designs to a 'dream board' in our breakroom where staff could hang pictures of ideal office spaces, we were delighted to find a lot of consensus on what our staff needs and wants. The end result is a product of our staff's considerations and the professional guidance of a stellar team of commercial project and construction managers."
CBRE Group Inc., the world's largest commercial real estate services and investment firm, served as AMR's broker and project manager throughout the entire process. From site selection to construction and design, the CBRE team ensured all considerations around security, budget and lease negotiation were met.
The new office houses all of AMR's in-house staff daily operations. Innovative workstations allow the current and future staff of AMR to work in a productive manner that fosters a supportive company culture and efficient teamwork while maintaining essential security protocols. Sixty new workstations, with room for additional workstations, provide employees with the options to work sitting or standing; while computer screens equipped with monitor arms enable the screens to be set at a preferred height/angle for optimal ergonomics.
As a healthcare company, security protocols for responsibly handling protected health information (PHI) are a top priority. AMR's secure entry system and IT network account for and observe federal privacy guidelines like HIPAA, as well as the security requirements of clients. Emir Rubi, Operations Manager, explains, "Our tech resources for security have not changed due to the move. The location (the building itself) and our new office layout were chosen and designed to take security into account. Not only do we have 24/7 building security, but all elevators and doors (to enter the office itself and other locations within the office) can only be accessed with additional security clearances. All work stations, printers, and shred boxes are located away from more "public areas" (conference rooms, hallways, etc.) to maximize the use of physical barriers to protect PHI." Visibility throughout the workspace is fostered by ample natural light provided by the structuring of windows in the new offices.
AMR Operations Manager Nora Kleiman is optimistic about what this move represents for the company. "Moving to our new office space provides an exciting opportunity to reflect our values-based company culture in our physical workspace. We used this opportunity to design a space that would foster communication, collaboration, and innovation so that our staff can effectively serve clients and their patients."
About Advanced Medical Reviews
AMR delivers physician-led peer reviews to a diverse group of healthcare and legal organizations, including commercial plans, Medicare, and Medicaid. Our commitment is to provide clients with fully integrated, compliant, and cost-effective services emphasizing continuous quality improvement, innovation, and client satisfaction. At AMR, we believe every patient should receive quality healthcare.
Website: http://www.admere.com
Connect: https://www.linkedin.com/company/advanced-medical-reviews.
Follow: @Amr_reviews