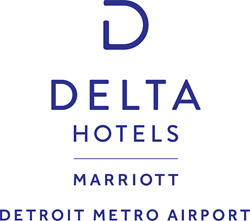 Delta's design and service enables guests to have a seamless travel experience that allows them to focus on what's important. It is simple made perfect.
DETROIT (PRWEB) June 07, 2018
Crescent Hotels & Resorts and Delta Hotels by Marriott announces the debut of Delta Hotels Detroit Metro Airport, adding 271 rooms and over 8,000 square feet of meeting space to the brand footprint. This is Delta's first branded hotel in the Detroit area and the 14th in the United States and signals the global expansion of the brand since its endorsement into the Marriott signature portfolio.
"The Delta Hotels Detroit Metro Airport marks the beginning of a period of exciting growth for the award-wining Delta brand." said Paul Cahill, Global Brand Leader Delta Hotels & Resorts, area vice president of operations, Canada. "Delta's design and service enables guests to have a seamless travel experience that allows them to focus on what's important. It is simple made perfect."
The hotel is conveniently located less than 2 miles from Detroit Metropolitan Airport (DTW) and offers complimentary shuttle service to and from the airport 24 hours a day. With ample parking for guests and quick access to I-94, it is also an easy drive to local attractions in "Motor City" Detroit.
Focusing on truly meaningful elements that provide its guests with a memorable and frictionless journey, Delta Hotels Detroit Metro Airport delivers on the Delta promise. The newly remodeled hotel features a resort-style indoor and outdoor swimming pool. All guests have access to the 24/7 fitness center with state of the art touch screen technology on equipment, business center equipped with desktop computers and complimentary high-speed Wi-Fi. Guests also have the option to elevate their stay to gain access to the Club Lounge. In room, the hotel offers 2 free bottled waters in the room replenished daily and free Wi-Fi in addition to the plush bedding and workspaces designed to keep you focused and productive.
The hotel also features a full-service restaurant, bar, coffee shop and sundry store. mETRO pOLIS features Modern American cuisine for breakfast, lunch and dinner. The mETRO pOLIS bar features a selection of craft beers on tap, wine and mixed drinks to pair with the delectable dishes on the menu. Jyllian's Bakery is open in the morning for the morning caffeine fix and quick bites on the go. The sundry shop, located near the front desk, is also available for miscellaneous items for guests during their stay.
"The Delta Hotels Detroit Metro Airport offers the best of what guests need, from state-of-the-art technology to intuitive design to meet the needs of modern business and leisure travelers. As an award winning Marriott manager paired with our experience in the Detroit Metro market the potential is maximized for this great hotel," said Michael George, President and CEO of Crescent Hotels and Resorts.
The Delta Hotels and Resorts brand encompasses a rich Canadian history and is a great complement to the Marriott International portfolio. Its recent expansion into North America signals Marriott's plans to grow Delta's hospitality globally to major gateway cities including New York, Shanghai and London. The development pipeline currently brings the brand offerings to 80 hotels. Delta is a member of the award-winning Marriott Rewards loyalty program. Guests can gain exclusive access to even more digital features through the Marriott Mobile app when they book direct, including mobile check-in and checkout, keyless entry and Mobile Requests to make their travel experience seamless. Marriott Rewards members will also earn points for their stay at Delta Hotels and can redeem for hotel stays across the Marriott Rewards portfolio of brands.
For more information about Delta Hotels Detroit Metro Airport, visit marriott.com/DTWDE.
About Crescent Hotels & Resorts:
Crescent Hotels & Resorts is an award winning, nationally recognized, top-3 operator of hotels and resorts. Crescent currently operates over 100 hotels, resorts and conference centers in the US and Canada. Crescent is one of the few elite management companies approved to operate upper-upscale and luxury hotels under the brand families of Marriott, Hilton, Hyatt and IHG. Crescent also operates a collection of legendary independent lifestyle hotels and resorts under Latitudes Collection, Lifestyle by Crescent. Crescent's clients are made up of hotel REITs, private equity firms and major developers. For more information, please visit http://www.crescenthotels.com, http://www.latitudesbycrescent.com or connect with Crescent on LinkedIn.
About Delta Hotels and Resorts:
One of North America's leading four-star brands, Delta Hotels provides guests with exactly what they need for a seamless travel experience. With more than 35 locations in gateway cities throughout Canada and US, guests will discover Delta's distinct style of simple made perfect. The brand's invitingly familiar rooms, free Wi-Fi and convenient dining options, offer travelers a comfortable and stylish place to stay. Delta Hotels was acquired by Marriott International in April 2015. For more information or reservations visit http://www.marriott.com.