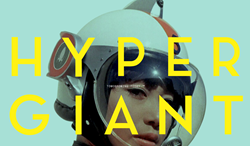 Sample will join the AI powerhouse as Chief Technology Officer (CTO) of Hypergiant Space Age Solutions Division, where he will be responsible for engineering leadership.
DALLAS (PRWEB) May 31, 2018
Hypergiant, the office of machine intelligence for the Fortune 500, today announced the addition of C.K. Sample III to their team. Sample will join the AI powerhouse as Chief Technology Officer (CTO) of Hypergiant Space Age Solutions Division, where he will be responsible for engineering leadership.
A leader in SaaS product development and engineering management, Sample comes to Hypergiant from his previous role as Chief Product Officer and acting Chief Technology Officer at YouEarnedIt. Under his leadership, the leading SaaS employee engagement platform underwent an award-winning redesign, setting the foundation for a suite of new offerings and a strategic partnership with Vista Equity. Prior to YouEarnedIt, C.K. was EVP of Technology & Development at Chaotic Moon Studios, where he led the team's development, contributing to a successful exit with Accenture.
Under his technological leadership, C.K. has helped multiple companies accelerate growth and win markets.
"I've been interested in machine learning and A.I. for years, and it's becoming clearer every day that the demand for a translator for the Fortune 500 is real. Machine intelligence is an inevitable area of growth with multiple applications across all industries, and we're only beginning to scratch the surface," said C.K. Sample, CTO of Hypergiant Space Age Solutions. "I'm excited to be joining Hypergiant Space Age Solutions to help chart this new frontier. Working with our clients, we'll continue to pave the way to a brighter future through real business solutions with machine intelligence at the core."
With over 20 customers, including TGI Friday's, Bosch, Schlumberger and Wingstop, Hypergiant's Space Age Solutions Division is responsible for leveraging intelligent technology to upgrade enterprise systems and workforces. With an increasing market demand for ways to start implementing AI today, Hypergiant is making it possible for brands to identify a business need, develop a strategy, and get up and running faster than ever. Rather than selling technology-first innovation that doesn't scale beyond a single problem, Hypergiant commits to business outcomes that move the needle for both the enterprise and the technologies supporting them.
"C.K. is exactly the kind of innovative force to lead engineering at Hypergiant Space Age Solutions," said Ben Lamm, CEO and co-founder of Hypergiant. "He is uniquely talented at building emerging technology teams that match customer needs, taking into account their brand, team, current IT systems, and business goals. It's not an easy task to fit all of those pieces together, but C.K. has proven time and time again that it's not only possible, but absolutely necessary."
Hypergiant is based in Texas, with offices in Austin, Dallas, and Houston.
Learn more about how we can tomorrow your today at: http://hypergiant.com
About Hypergiant
Hypergiant is the office of machine intelligence. We help the Fortune 500 innovate with breakthrough machine intelligence-driven technology products and space-age solutions. The space where impossibility intersects reality. Where companies speed beyond norms and realize an exploded potential. Where light filters out the dark. And machine intelligence makes everything about your business more intelligent.
Leading brands leverage our platform products and advanced services to create powerful technology solutions and smarter, more efficient workforces.
Hypergiant was founded by Ben Lamm, John Fremont, and Will Womble and is headquartered in Texas.
Tomorrowing Today @ http://hypergiant.com