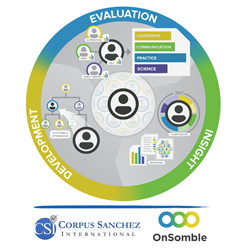 "I am excited about the OnRole platform because it provides a practical and cost-effective mechanism to assess current competencies of leaders and front-line clinicians – both nurses and other professionals within the interprofessional team." - Brad Campbell, President of CSI
NASHVILLE, Tenn., and TORONTO, Canada (PRWEB) May 31, 2018
Corpus Sanchez International Consultancy Inc. (CSI) and OnSomble, Inc. (OnSomble) are pleased to announce today a strategic partnership to provide data-driven competency assessments, professional development, and individualized learning solutions to healthcare organizations in Canada.
"We are proud to announce our strategic partnership with CSI, who we view as the perfect partner to shepherd our expansion into the Canadian healthcare environment," stated Enderson Miranda, CEO of OnSomble. "We are honored CSI chose to incorporate our OnRole™ Platform into their powerful suite of consulting services and tools."
OnSomble provides hospitals and healthcare organizations with a customizable and adaptive learning platform for professional development, continuing education, and individualized learning. OnSomble's platform, OnRole™, currently hosts over 200 million data points and 25,000 unique users, primarily in the United States. The expansion into Canada has the potential to substantially increase these figures.
"I am excited about the OnRole platform because it provides a practical and cost effective mechanism to assess current competencies of leaders and front-line clinicians - both nurses and other professionals within the interprofessional team - in order to maximize change management solutions and individualized professional development plans. The OnRole platform is an effective and scalable solution that will enable improved performance, productivity, and individual growth that can be sustained over time" stated Brad Campbell, President of CSI.
About OnSomble, Inc.
OnSomble's OnRole™ platform allows organizations to efficiently allocate evidence-based content and education resources; utilize key metrics and data analytics to pinpoint opportunities for development; identify internal leaders to empower their growth from within; provide built-in peer feedback capabilities; measure key demographic and certification data that support ANCC Magnet® or Pathways to Excellence®; create individual self-development dashboards that encourage employee engagement; and reduce variation in practice to optimize patient outcomes.
About Corpus Sanchez International Consultancy Inc.
Corpus Sanchez International (CSI) is a Canadian-based consulting firm dedicated to working with organizations in the healthcare industry. CSI's mission is to partner with its clients to transform healthcare, and CSI has a track record of serving some of the largest hospitals and health care systems in Canada. CSI is founded on a set of core principles that ensure clients receive services that are efficiently and effectively delivered and contribute to the longer-term goal of system sustainability.