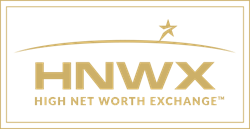 The HNWX is founded on the idea that sophisticated investors and families of wealth need a private platform through which they can connect with choice investment solutions; where they can have unfettered access to investment opportunities not yet available to the public
ORANGE COUNTY, Calif. (PRWEB) June 04, 2018
Elysian Capital Holdings, LLC's (ECH), High Net Worth Exchange (HNWX) is an innovative, online investment platform designed to connect affluent investors with top-tier investment sponsors. The exclusive investment network, set to launch in early summer, enables HNWX Club Members to choose from a wide selection of qualified investment offerings under complete discretion and according to their individual preferences and appetites for risk.
"The HNWX is founded on the idea that sophisticated investors and families of wealth need a private platform through which they can connect with choice investment solutions; where they can have unfettered access to investment opportunities not yet available to the public," explains John Harline, HNWX Founder and Platform Architect. "Based on the overwhelming and positive response we have received thus far, and well ahead of our formal platform launch, there is a significant demand for a solutions-based technology platform dedicated to finding exclusive investment opportunities for high net worth families."
By registering as an HNWX Club Member, qualified investors will have the ability to access the HNWX Member-Login portal through the fully-interactive HNWX website (http://www.HNWXchange.com). There, HNWX Club Members will review relevant descriptions of currently featured investment offerings. HNWX will offer these top-tier investment opportunities through Investment Sponsors, a select group of invitation-only service providers hand-selected by the HNWX membership committee.
Aside from Direct Investment opportunities, the HNWX will offer a comprehensive ecosystem of services to its Club Membership including Member Summits, and information on World Class Asset Management, Private Equity and Debt, Venture Capital Partnerships, High Net Worth Protection Services, Registered Investment Advisory Services and Real Estate Private Placements and 1031 Exchange Opportunities.
"Fulfilling the needs of the qualified investor and family office is at the forefront of our focus as we lay the foundation for the HNWX experience," adds Harline. "Through the building of an extensive ecosystem of services and solid alliances with superior Investment Sponsors, we look forward to providing customized connections and a world-class experience for our HNWX Club Membership."
HNWX is currently accepting inquiries from potential Club Members, Investment Sponsors and Speaker Requests at http://www.HNWXchange.com.
ABOUT ELYSIAN CAPITAL HOLDINGS, LLC
ELYSIAN CAPITAL HOLDINGS, LLC (ECH) oversees a diverse portfolio of synergistic businesses within the financial services and consultative industries. By partnering with growth-oriented, well-positioned companies, we effectively join SMART PEOPLE, with SMART CAPITAL, to ultimately create SMART BUSINESS. Our paradigm is based upon the essential connectivity of these unique components. When intelligent and accomplished individuals are matched with capital and scalable business plans which complement their expertise, the result is a meaningful pool of diversified, intellectual capital that can be shared across all business lines and reflects consistent aggregated revenue growth over time. Learn more about Elysian Capital Holdings at http://www.ElysianCapitalHoldings.com.
ABOUT THE HIGH NET WORTH EXCHANGE
The HIGH NET WORTH EXCHANGE (HNWX) is an exclusive, membership-only platform designed for the exchange of diverse and marquis investment opportunities. Through an innovative collaboration, the HNWX provides an ecosystem of services through HNWX Investment Sponsors that can be uniquely made available to HNWX Club Members prior to being available to institutions or the public.
Connect with HNWX on Linkedin: https://www.linkedin.com/company/hnwx-exchange/