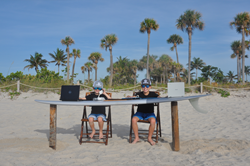 At CREPIC, we celebrate the everyday rider every day, because it's not about being the best, but about being one's own best!
MIAMI BEACH, Fla. (PRWEB) June 01, 2018
IT WAS CREPIC: When 6-year-old Merritt decided to paddle out into one of the big summer storm swells that rolled up the Florida coast in 2017, launching a brand of board apparel was the last thing on this mind. "I was thinking… I just didn't want to fall, " laughs the kindergartner. Though both Merritt and his older brother Ethan were relatively new to surfing, they were both full of enthusiasm and recognized that each time they put on their wetsuits and got out there, it wasn't about being the best, it was about being their own personal best. On this particular day, despite numerous wipeouts, bruised egos and bodies, little Merritt continued to get after it. When they finally came back to the shore, the brothers discussed their surf session and Merritt confidently proclaimed aloud: "It was crazy, BUT epic! It was CREPIC."  His smile was the length of a longboard.
A PASSIONATE SPARK: The two brothers approached their parents and said they had an idea.  "Mom," Ethan recalls saying, "Can Merritt and I try to start a company called CREPIC?" "We have this idea that we can create something really special, and you know, it's cool because it's about our favorite thing, surfing."  Despite only being six and nine years old, Merritt and Ethan were no strangers to creative ideas. Avid fans of the Shark Tank television series and NPR's How I Built This radio program, they had often been dreaming up concepts with an amazing entrepreneurial spirit. "It was truly because of the boys' passion and their relatability to this idea that made us believe in them," said their parents.
CELEBRATE EVERY RIDER: The plan was simply to create a line of shirts, hats, and other apparel items that those who ride boards on the waves, street, or snow would enjoy. But what was unique was the immediate vision of what they wanted to achieve by focusing on celebrating the "everyday rider, every day". "There are lots of board brands we like and stuff we wear", says Ethan "but most of these brands try to get kids to celebrate the pros - plus they are companies by grown-ups for grown-ups… that happen to make small size stuff for kids". CREPIC celebrates kids and grown-ups being their best selves, whether they are riding their first wave or their thousandth.
POSITIVE VIBES: The boys' message about being your best self and spreading positivity is real. They have aligned themselves with national anti-bullying resources to help end this problem that affects so many kids and will donate a portion of their proceeds to support this organization.  "Bullies in the line-up on the beach, at the skate park, or on a field are bad news," says Merritt, and bullies don't live crepic. Furthermore, they initiated a company policy where no negative labels or stereotypes are allowed. Though it's a corporate culture of two, they are serious about molding their brand to their vision.
THE SWELL IS BUILDING: These young brothers are already making waves impressing the surf, snow and skate communities locally and nationally. Starting this June, they will officially launch the brand website and apparel sales. Paddling out into the fury of the apparel world won't be easy and they know the challenges that await them. Yet when you meet these two entrepreneurs and feel the enthusiasm that first pulled them to the surf on that summer day when CREPIC was born, it's not hard to imagine they are about to ride the biggest wave of their young lives.   
For more information visit http://www.livecrepic.com and follow on Instagram @livecrepic or on Facebook @livecrepic. #livecrepic #crazyepiccrepic. For press inquiries contact info@livecrepic.com