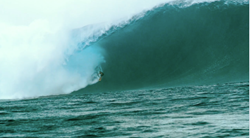 LOS ANGELES (PRWEB) June 01, 2018
This past Memorial Day weekend, professional surfer and musician Makua Rothman survived a violent wipeout after attempting to ride what most are calling the biggest wave in Fijian history at Maxing Cloudbreak. Most experts are also calling it the biggest barrel ever ridden and it will go down in Surfing history as one of the waves of the Century. After finishing recording sessions in Los Angeles, Rothman flew back to Hawaii to do stunt work for a new movie starring Dwayne "Rock" Johnson. Rothman conveniently wrapped up filming on set for the film. After tracking the swell heading to Fiji online, Makua left to chase what could be a once in a lifetime chance. During the mega swell that hit Fiji, Rothman attempted to ride a monstrous wave that ended up swallowing him.
"Oh my God, that pounding! This could've been my worst wipeout ever. It had me spinning on my back in the foam ball, and the next thing you know, I was getting so pounded," commented Rothman about the experience. "I train year round and I'm glad I was in good condition or I might not be here today with my family and friends." Rothman was fortunate enough to walk away without any serious injuries, but the clip of him riding the wave has since gone viral across the internet and will go down in the surfing history books and can be seen online at https://youtu.be/ndQJMa7mBZs.
Makua Rothman was born on the North Shore of Oahu, Hawaii and started surfing at the age of two years old. At the age of 18, Rothman surfed a 66-foot wave, the largest wave known to be surfed anywhere in the world that winter, earning him $66,000 in prize money. Rothman eventually became proficient enough to win the 2002 Billabong XXL Big Wave Challenge Award in a historic big-wave session and become the 2007 World Cup of Surfing champion. Rothman won the 2015 World Surf League Big Wave Championship and is an accomplished musician who is finishing up his sophomore release, the follow up to critically acclaimed record "Sound Wave".