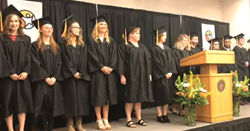 We are a supportive school community, and we look forward to seeing what the future holds for our graduates. I fully believe that we've equipped our students with the knowledge and confidence they need to set out and accomplish their goals
BOISE, Idaho (PRWEB) June 07, 2018
INSPIRE, the Idaho Connections Academy, a full-time, tuition-free statewide online public school, celebrated the accomplishments of its 2018 graduating class last week. Over 70 graduates donned their caps and gowns and participated in a traditional in-person commencement ceremony at the Nampa Civic Center. These diligent and self-motivated graduates earned nearly a million dollars in scholarship awards. With INSPIRE, each graduate received a unique and tailored education experience, with an award-winning curriculum, school clubs, field trips, and extracurricular activities.
"It has been rewarding to watch how each student thrived within this online learning environment, and we're delighted to recognize our impressive graduates," said Karen Haines, school leader for INSPIRE. "We are a supportive school community, and we look forward to seeing what the future holds for our graduates. I fully believe that we've equipped our students with the knowledge and confidence they need to set out and accomplish their goals," she added.
Among INSPIRE's Class of 2018 graduates are:

Rose Dunton (Pocatello, Idaho) – Rose will be attending Washington State University's global campus and will receive an online degree in economics. Rose is graduating early at 16 years old. She is a recipient of the Barbara J. Dreyer scholarship, as well as the Jack Hume Scholarship through Basic American Foods. She models in her spare time and dreams to someday walk at Amazon Fashion Week in Tokyo.
Derek Hearst (Meridian, Idaho) – Derek will be attending the University of Nevada Reno campus this fall. He will be majoring in computer science, and minoring in cyber security. Derek received the Western Undergraduate Exchange (WUE) scholarship.
Elizabeth Latour (Eagle, Idaho) – Elizabeth will be attending Boise State University this fall and dreams to become a labor and delivery nurse. She recently became a certified nursing assistant and will work over the summer to get a jumpstart in her desired field.
Eliana Kernodle (Sandpoint, Idaho) – Eliana has been accepted to Hillsdale College where she plans to double major in history and classics. She was also accepted to the Idaho House of Representatives page program earlier this school year and enjoyed the flexibility INSPIRE offered her while participating in the program.
Faith Lewis (Blackfoot, Idaho) – Faith will be graduating a year early and plans to take a gap year. Faith sees herself working towards a career in medicine or early education following her gap year. In the meantime, she will continue to work at an area day care, and she will take time to explore.
INSPIRE Connections Academy has been bringing a fully accredited public online education directly to families throughout Idaho since 2005. The school currently serves approximately 1,025 students in Idaho. Authorized as a charter school by the Idaho Public Charter School Commission, INSPIRE Connections Academy's mission is to help each student maximize his or her potential through a uniquely individualized online learning program. Because it is a public school, there are no tuition costs or fees to attend.
INSPIRE Connections Academy students meet regularly in online LiveLesson® classroom sessions and have opportunities to share ideas, compare experiences, and have fun learning with their peers. They also have access to a wide range of courses, including engaging electives, Career Technical Education courses, and honors and AP course options. There are several ways for students to meet and learn together throughout the school year, through in-person field trips, online school clubs, and special events.
Enrollment for the 2018-19 school year is currently open, and free in-person and online information sessions are available for families to learn more. Visit http://www.IdahoConnectionsAcademy.com/events or call (800) 382-6010.
About INSPIRE, the Idaho Connections Academy
INSPIRE, the Idaho Connections Academy, is a tuition-free, high-quality, highly accountable statewide online public school serving students in grades K–12. Authorized as a charter school by the Idaho Charter School Commission, INSPIRE is accredited by the Northwest Accreditation Commission (NWAC), an accrediting division of AdvancED. INSPIRE provides students with the flexibility to learn from anywhere there is an Internet connection and with an innovative online school curriculum that meets rigorous state education standards. The combination of Idaho state-certified teachers, a proven curriculum, unique electives, technology tools, and community experiences creates a supportive and successful online learning opportunity for families and children who want an individualized approach to education. For more information, call 800-382-6010 or visit http://www.IdahoConnectionsAcademy.com.