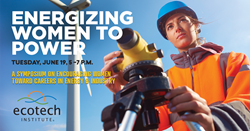 AURORA, Colo. (PRWEB) June 05, 2018
Ecotech Institute, a college focused solely on preparing graduates for careers in the energy industry, is pleased to invite the community to the "Energizing Women to Power" symposium on Tuesday, June 19, 2018. Free and open to both women and men, the symposium will feature presentations by some of the energy industry's top female leaders who will share valuable insights into meaningful career opportunities that exist for women in this booming field.
WHAT: "Energizing Women to Power," a special symposium dedicated to highlighting the important roles women play in today's clean energy sector and empowering women to explore careers in the energy industry.
WHO: The symposium will include a keynote speaker, a panel discussion, and a Q&A session featuring:

Amelia Rose Earhart, President of the Fly With Amelia Foundation, renowned pilot, published author, and reporter for Colorado's Channel 9 News
Annette Meredith, Colorado C3E (Clean Energy, Education and Empowerment) Project Advisor for the City of Fort Collins
Sandra Halvatzis, Programs Manager at The Alliance Center
Nancy Johnson, Arapahoe County Commissioner District 4
Sharon Kenner and Yvette Alley, Ecotech Institute Graduates
WHEN: Tuesday, June 19, 2018, from 5 p.m. to 7 p.m. MST.
WHERE: Ecotech Institute, 1400 South Abilene Street, Aurora, CO 80012.
RSVP: The event is free and open to the public. RSVP here, or contact Laura Leitner at 720.213.2601 ext. 4601. for more information.
MEDIA: To request interviews, photos or to cover the event, please contact: Vlad Drazdovich at 954.379.2115 ext. 5 or via email at vlad@redbanyan.com.
All attendees will also have an opportunity to tour Ecotech Institute's campus and facilities both before and after the event and learn more about the variety of programs and classes the school offers, including Wind Energy Technology, Solar Energy Technology, Power Utility, and Electronics Technology programs.
About Ecotech Institute
Ecotech Institute is a college solely focused on renewable energy education. Located in Aurora, Colo., Ecotech Institute offers an array of practical diploma programs that prepare students for careers in the energy industry, with an emphasis on the fields of renewable energy, sustainability and energy efficiency. Through flexible programs designed to meet diverse career goals, students get the hands-on training they need to be successful in these high-tech industries. Ecotech Institute is a division of Education Corporation of America. For more information about Ecotech Institute, visit ecotechinstitute.com or call (303) 586-5290.