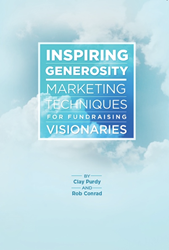 The insights here are not just for not-for-profits. Donors should consider these points to determine whether the recipients of their gifts are truly visionary, worthy organizations.Scott Schweighauser,Chicago-based Philanthropist
CHICAGO (PRWEB) June 04, 2018
Rob Conrad and Clay Purdy announce the publication of their new book, Inspiring Generosity: Marketing Techniques for Fundraising Visionaries. This anecdote-filled book shows how strategic discipline, fueled by consumer insight and a smart digital media plan can help any not-for-profit enterprise ignite its fundraising activities, broaden its donor base for the future, and turn contributors into an enthusiastic fan base.
"Inspiring Generosity" should be mandatory reading for non-profit staffs and boards…a valuable guide for anyone seeking to achieve today's best practices in their fundraising activities."
-Fundraising Expert, Phil Smith, Founder and CEO, CAPTEL, Washington, DC
Conrad and Purdy are the founders of Canteen Communications, a Chicago-based marketing services company dedicated to growing their clients' businesses while contributing to the common good.
"Inspiring Generosity" is now available on Amazon. For more information, please visit canteenco.com.