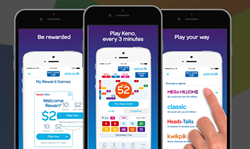 "Our capability to demarcate irregular boundaries and its association to an appropriate zone (whether approved or not approved) was the primary challenge that we helped TABCORP overcome." Rajan Vaz, COO, SPREO
NEW YORK (PRWEB) June 04, 2018
Tabcorp, an integrated wagering and entertainment ASX 100 Company, has selected SPREO's solution for their digital gaming offering, called the Keno app. Keno, a primary focus of Tabcorp's gaming division, is a lottery-like wagering game. Keno revenues reached just over $212.7 million in FY17.
Tabcorp's primary challenge was to enable the functionalities of the app within the boundaries of NSW government regulation which restricts gaming outside of the perimeter within their licensed venues. In a CIO50 2017 featured coverage, Tabcorp's CIO Kim Wenn mentioned that they "needed to find a solution that enabled a customer to play Keno via the app within a venue, but for the play to be disabled once outside the venue. The boundary needed to be strictly monitored to adhere to regulations."
"So basically, the app would have to implement a geo-fence and adhere to these guidelines," explains SPREO's COO, Rajan Vaz.
Wenn's team evaluated the technical viability of several world leading vendors prior to adopting SPREO's solution. Wenn adds that "The innovation process consisted of working through a large number of prototypes that would determine which technologies were worthy to further explore".
Tabcorp's partnership with SPREO is recognized as a significant milestone in establishing the viability of high-precision 3D geo-fencing technology. The simplicity of the Spreo SDK empowered the Tabcorp team to implement the Keno app with embedded indoor positioning algorithms efficiently. It utilizes 3D geo-fences with bluetooth beacons, along with intelligent floor plans to meet the regulatory requirement with an accuracy of one meter.
Vaz says "Through a clever usage and placement of BLE beacons in a venue we are able to clearly demarcate zones and boundaries that can be designated as belonging to an approved or not approved section within the venue". Vaz adds "Our capability to demarcate irregular boundaries and its association to an appropriate zone (whether approved or not approved) was the primary challenge that we helped TABCORP overcome."
Spreo has proven to be a nimble and crafty player in the IoT arena by fully utilizing the IoT sensors and BLE beacons. Customers are able to deploy SPREO's solutions on a mass scale through strategic improvisation similar to the scenario of Tabcorp. The flexibility in the technology conveys that it is qualified to be implemented across many other industries and verticals.
About SPREO
SPREO SaaS mapping platform with embedded indoor positioning provides wayfinding, location sharing of users and assets, site analytics, geofencing, proximity notification etc. It is suitable for dynamic range of enterprise clients across retail management, corporate offices, sports, entertainment, healthcare and more.
SPREO's technology brings together location algorithms, sensor-based indoor positioning software, intelligent mapping system, AI technology and cloud-based content management system.
SPREO is headquartered in New York City with R&D labs in Israel.
To learn more, visit us at http://www.spreo.co, 646.827.2769 | info@spreo.co