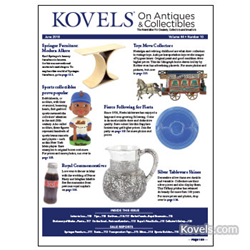 CLEVELAND (PRWEB) May 31, 2018
Vintage nodders were offered at a sports memorabilia auction in Pennsylvania and are featured in a sale report in Kovels On Antiques & Collectibles June 2018 newsletter. Prices ranged from $180 to over $1,000. Nodders, also known as bobbleheads, first grabbed sports memorabilia collectors' attention in the 1960s with their oversized bobbing heads. See bouncing caricature versions of baseball's Willie Mays and Chief Wahoo, the Cleveland Indians' former mascot, along with others that represent baseball and football teams and their selling prices. Since 1936, Fiesta tableware has enjoyed a large and ever-growing following. Kovels' June issue reports on a spring two-day Fiesta sale which included more than 1,000 lots of both vintage and modern Fiesta. See the maroon coffeepot that went for more than $20,000, the cobalt blue creamer that brought over $5,000 as well as other colorful Fiesta pieces.
Furniture designed by Karl Springer sold at a recent auction in Florida. Springer's luxury furniture is known for its unconventional shapes and unusual materials, typified by the stylized T-shaped console table of lacquered parchment that sold for more than $5,500. Other eye-catching Springer chairs and tables are pictured in the June newsletter with their prices.
Sterling silver tableware items are elegant accessories and beautiful to display. More than 70 lots of 18th through 20th century sterling silver changed hands at a New York auction and Kovels' latest issue pictures some useful pieces and their prices. And an auction in Pennsylvania included transportation toys. Kovels' pictures priced examples of antique trolleys, buses and a car carrier, most made of lithographed tin or cast iron.
Kovel's June 2018 issue includes even more — a timely report on market trends for royal wedding collectibles and an "on the road" feature about unique treasures the Kovels' found in London and Paris flea markets and museums. Kovels' popular illustrated Collector's Gallery answers readers' questions about a pair of Art Deco ducks, a Gone-With-the-Wind lamp, a Flemish Art Co. plaque and a silver-plated cigarette holder. June's Dictionary of Marks lists marks found on Fiesta dishes. And more than 70 antiques and collectibles are listed in the June Buyer's Price Guide.
Kovels On Antiques & Collectibles is available as a print subscription, or as a digital version that is part of the Kovels.com Premium subscription.
Terry Kovel is America's foremost authority on antiques and collectibles. She is the well-known columnist and author of more than 100 books on antiques and collecting. The 2018 / 50th anniversary edition of Kovels' Antiques & Collectibles Price Guide is currently available at Kovel.com and local bookstores. Terry Kovel will discuss antiques and collectibles topics with accredited media. Photographs are available. Contact pr(at)kovels(dot)com.
About Kovels.com
Kovels.com, created by Terry Kovel and her daughter, Kim Kovel, provides collectors and researchers with up-to-date and accurate information on antiques and collectibles. The company was founded in 1953 by Terry Kovel and her late husband, Ralph. Since then, the Kovels have written some of America's most popular books and articles about antiques, including the best-selling annual Kovels' Antiques & Collectibles Price Guide. The website, Kovels.com, online since 1998, offers more than a million free prices, and includes a free weekly email, "Kovels Komments." It gives readers a bird's-eye view of the market through the latest news, auction reports, a Marks Dictionary, readers' questions and answers and much more.
Contact Information:
Liz Lillis
216.752.2252
Pr(at)kovels(dot)com