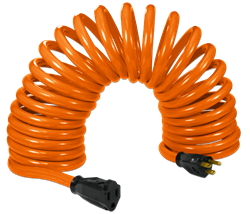 SANTA FE SPRINGS, Calif. (PRWEB) June 04, 2018
For The Dad That Has It All!
Whether Dad is a gardener, handyman, or simply looking to charge his devices, the Flexy Cord™ is the go-to Father's Day gift that will power up the latest projects. Flexy Cord™ is a coiled extension cord that is easy to pull and easily retracts to its original size. With the Flexy Cord™ there are no tangled or dragging cords interfering with its function unlike the standard extension cord. It can be extended over 20 times its original length which is incredible!
The innovative, coiled Flexy Cord is a must have this Father's Day! Flexy Cord™ makes life easier and worry-free when it's time to clean up, since it retracts back to its original size, taking up little to no space. Easily stores in tool boxes, kitchen cupboards, drawers, or virtually anywhere! The Flexy Cord™ is a tangle-free neat product due to its slinky coiled retraction.
The Flexy Cord™ makes for a safer usage due to no more tangled cables when using power tools, equipment, and any devices for that matter. There are no worries about the cord pulling out of the socket when fully extended due to its soft coil pull. Safety comes first, as CEO Phil Ramos Jr. states, "When creating the Flexy Cord™, I remembered the instances of feeling unsafe with power tools connected to a normal - tangled extension cord, and worrying if something would go wrong. Now with the Flexy Cord™, I have peace of mind."
The Flexy Cord™ is a gift that Dad will truly enjoy after Father's Day.
To send a Father's day gift, visit flexycord.com, which also has an informative video.
Philatron USA Manufacturer
About Philatron Wire and Cable
A leader in technology, creativity and innovation, Philatron Wire and Cable is a major wire and cable provider in the USA, manufacturing a full range of wire and cable products. As an industry leader in manufacturing, design, development, technology, and marketing, with over 39 years of service Philatron values core competencies offering copper drawing, roping, cabling, extrusion, injection molding, coiling and assembly.
MADE IN AMERICA
Visit us at: philatron.com
For additional information contact:
Tammy Ashton
Vice President – Sales and Marketing
(800) 967.9147
tashton(at)philatron(dot)com