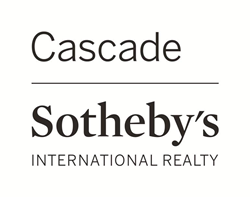 Cascade Sotheby's sees steady growth throughout the entire Metro area as well as a 50% increase in market share in SW Washington.
BEND, Ore. (PRWEB) June 01, 2018
Bullish on forward-thinking development and revitalization in SW Washington, Cascade Sotheby's International Realty has invested in prime retail office space in downtown Vancouver. The brokerage will add a 3,185 square foot gallery-style office at Riverview Tower, 900 Washington Street, and is expected to open its doors by late summer.
Cascade Sotheby's, whose real estate footprint runs north to Longview and west to the SW Washington Coast, also signed as an anchor tenant at the the highly-anticipated Vancouver Waterfront project.
"There is such enormous potential in the SW Washington real estate market right now—we see 'the next Pearl District' emerging from such thoughtful new development and revitalization efforts," says Deb Tebbs, founder and CEO of Cascade Sotheby's International Realty. "The downtown retail space will really enable us to showcase the power of Sotheby's brand and our expertise for uniting homebuyers with artful and active living spaces that offer 'a sense of place'—key elements of the new urbanism movement Vancouver is experiencing."
Cascade Sotheby's has seen steady growth throughout the entire Metro area as well as a 30% increase in market share. The firm increased its market share in SW Washington alone by 50% in the first quarter of 2018 and more than doubled its closed sales volume for the same period from the previous year.
Part of that growth comes from being at the forefront of artful, environmentally-friendly living in the region. One of Cascade Sotheby's top agents, Heather DeFord is the exclusive listing agent for The Parklands at Camas Meadows, a luxury community for active adults. The Parklands large lot development will be the site of Clark County's 2018 NW Natural Parade of Homes, September 7—23, 2018.
The new community boasts a golf course, walking trails, water activities, accessible public spaces and all of the thoughtfully-designed amenities for the 'new urban' lifestyle.
The Parklands also offers 24 luxury condominiums with golf course, lake and Mount Hood views, and includes The Archery District Business Park, a commercial mixed-use space that will be home to restaurants, retail, coffee shops, office space and more as part of a new urban appeal.
"The Parklands offers a stunning example of luxury dream home living combined with a focus on new urbanism, which offers more public spaces, community and environmental sustainability and healthier, active options for residents," says DeFord, who was recently honored as a finalist in the list of the fastest growing businesses in SW Washington. "Miles of walking trails, Lacamas Lake water activities, spectacular views and a vibrant community full of restaurants and brewpubs are all planned for this little slice of heaven."
The brokerage is one of the elite 25 Sotheby's International Realty® franchises in the U.S. in the billion-dollar+ volume category and is one of the top franchises in closed sales revenue in the entire Sotheby's International Realty global realty network.
Since the company's founding in 2006, management has focused on white glove customer service by building an industry-leading team, innovative sales platform, and proprietary technology network for its brokers. As a result, Cascade Sotheby's added more than 80 new brokers regionwide in 2017. Now the brokerage revels in these accomplishments:

$1.3 billion in total transaction volume
$30+ million in company revenue
325% sales growth from 2015 to 2017
2x+ market share in Central Oregon compared to closest competitor
80+ brokers/producers signed
250+ total brokers across Oregon and SW Washington
33%+ higher price point than other agents in Portland and SW Washington
10+ years of operational history
11 offices in Oregon and SW Washington
"We are committed to the SW Washington real estate market and see clearly what the entire region has to offer our clients," says Tebbs. "New development, condos, restaurants, the emerging waterfront district—the whole region is undergoing such a beautiful transformation and we are enthusiastic on being a part of it all."
About Cascade Sotheby's International Realty
Harnessing the worldwide recognition and prestige of the Sotheby's name, Cascade Sotheby's International Realty expertly represents the most distinctive properties at every price range. The firm's 11 strategic locations throughout Oregon and southern Washington form the most expansive luxury real estate network in the Pacific Northwest. Cascade Sotheby's International Realty brokers are masters of their craft, combining local expertise and global connections to artfully unite extraordinary places with extraordinary lives. The firm achieved a billion dollars in sales in the first 11 months of 2016, joining only 25 Sotheby's International Realty affiliates in the world with this distinction. Exceptional service, continual innovation, and unrivaled market knowledge continue to set Cascade Sotheby's International Realty apart as an industry leader.
Contact: Claudia Johnson, Public Relations, 503-799-2220