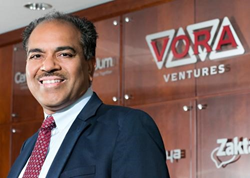 We are thrilled to have ShakeDeal as part of our portfolio, our first significant acquisition in India.
CINCINNATI (PRWEB) June 05, 2018
Vora Ventures, a US based private equity firm specializing in building B2B information technology companies, today announced that it has acquired ShakeDeal (http://www.shakedeal.com ), India's first B2B bulk sourcing online marketplace for Industrial Goods, Supplies, and Raw Materials. The investment will be used to support the ongoing growth and expansion of ShakeDeal into new vertical markets and product lines and to make it a preferred destination for businesses in India to purchase supplies, tools and raw materials.
"ShakeDeal is expected to grow at a significant rate, triggered by technology improvements to its proprietary sourcing software and by the addition of complementary services and products," said Akshay Hegde, Co-Founder & Managing Director, ShakeDeal. "The traction gained in the last 12 months is an indicator that demand for bulk sourcing, inter-state and global trading is set to increase multi-fold. This partnership unlocks an opportunity for ShakeDeal to introduce a sophisticated negotiating environment and state-of-the-art logistics management that benefits B2B buyers in India," added Mr. Hegde.
"We are thrilled to have ShakeDeal as part of our portfolio, our first significant acquisition in India", said Mahendra Vora, Executive Chairman at Vora Ventures, "We believe that the B2B market in India is poised for explosive growth supported by the recent liberalization of regulations and taxation by the Government. ShakeDeal's established network, trusted brand and committed team will benefit from our global resources, strategic and infrastructural support and business development expertise as we expand into additional verticals over the next 12 months," he added.
Vora Ventures' group portfolio companies span B2B software, services, and infrastructure solutions, employing more than 2,000 associates worldwide. The acquisition of ShakeDeal boosts the Vora's pool of intellectual property and brings together an exceptional leadership team. Vora owns one of the fastest growing B2B Procure-to-Pay provider Aquiire.com. Aquiire has traditionally focused on B2B commerce enablement market, including enabling marketplaces like ShakeDeal. With ShakeDeal, Vora enters into direct deals and transactions from just enablement and further strengthens its leadership in the B2B commerce.
About Vora Ventures
Headquartered in Cincinnati, Vora Ventures is a privately held equity group that specializes in building innovative IT companies worldwide. Founded by industry veteran Mahendra Vora, the group portfolio consists of companies in the B2B software, services and infrastructure solutions space. Vora Ventures provides resources, advice and state-of-the-art infrastructure to its portfolio companies, as well as management of financial and compliance systems, acquisition and recapitalization services, and strategic mergers.
Vora Ventures was a finalist for the 2017 Greater Cincinnati Healthiest Employers Award. The company was also named in the Deloitte Cincinnati USA 100, a list of the top 100 privately held businesses in the greater Cincinnati area. In 2016 Vora Ventures was named as #1 New Business Participant for its charitable work with the United Way of Cincinnati. In 2015, Vora Ventures was named the Technology Company of the Year by the Cincinnati Business Courier. More information at http://www.VoraVentures.com.
About ShakeDeal
ShakeDeal is a web and mobile-enabled B2B Bulk Sourcing Marketplace for Industrial Goods, Supplies, and Raw Materials. ShakeDeal enables procurement through its proprietary negotiation software along with on-demand aggregate buying to provide a fillip to millions of SMEs and businesses in their sourcing efforts for reselling or consumption.
Focused on Indian market, ShakeDeal offers multiple tools for businesses to manage behind-the-curtain sourcing events, negotiations, and continuously improves its patent pending product for bulk buying.