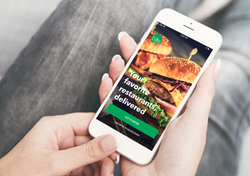 "It's a complete overhaul, which vastly improves the ordering experience," said VP of product Sal Habash. "It's not just a facelift, it has a whole new skeleton. Everything is better and faster; it's more intuitive and has a new modern look, too."
MINNEAPOLIS (PRWEB) June 06, 2018
Bite Squad, the Minneapolis-based food delivery company, today launched its all-new, redesigned restaurant food delivery app for iOS. Based on customer feedback, the app has been rebuilt from the ground up and offers a streamlined user interface with simpler navigation, faster checkout and a stylish new look and feel.
"It's a complete overhaul, which vastly improves the ordering experience," said VP of product Sal Habash. "It's not just a facelift, it has a whole new skeleton. Everything is better and faster; it's more intuitive and has a new modern look, too."
The new Bite Squad v3 app, which works on Apple iPhone and iPad, features:

a streamlined ordering process, requiring fewer screens and taps
an improved restaurant and cuisine search function to surface the most relevant results
a faster and easier checkout process, which automatically saves credit cards, addresses and uses popular defaults
the ability to view past orders and receipts, and soon a one-click reorder function
a revamped, cleaner layout and design that is visually appealing and more accessible
The product team plans to roll out new features, such as a one-click reordering and in-app live chat, soon after the launch.
Product features of the redesigned app were shaped in part by a diverse group of beta testers. These were current customers who volunteered to give input on features, tested for bugs and gave feedback on the new design. Here's what a few had to say:
"Design has definitely been kicked up many notches. So great that things can be changed and customized in the cart!" -Daniel in Honolulu, HI
"The new menu layout is much better and the descriptions are easier to read and understand." -Sawyer in Little Rock, AR
"I like the fact that I don't have to click on my stored card to pay and scroll for the tip." -Laura in Sarasota, FL
"The app is cleaner and easier to navigate." -Patrice in Memphis, TN
The Bite Squad restaurant delivery app provides users with the opportunity to order restaurant food delivered to their door in minutes, from anywhere. A wide range of restaurants are available to choose from, and filtering tools and a search bar make it easy to find any food, of any cuisine, meeting any dietary restrictions. Meals can be ordered on-demand or scheduled in advance and conveniently paid for via credit card. By creating an account, app users can securely save their delivery addresses, order preferences and payment information for quick and easy checkout. And a live order tracking system allows users to see when their food will arrive.
The updated Bite Squad app is free and available now from the App Store. An Android equivalent is expected to be released this summer.
###
About Bite Squad
Bite Squad is a leading independent provider of online and mobile food ordering and delivery services in the United States. Founded in 2012, in Minneapolis, Minnesota, Bite Squad partners with more than 10,000 restaurants across more than 45 metropolitan areas to deliver fresh food straight to the customer's door, quickly and hassle-free. To learn more about Bite Squad or to download the top-rated Bite Squad mobile apps, visit bitesquad.com.