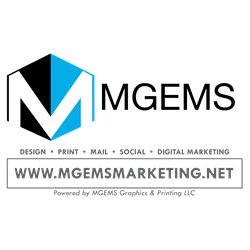 With the marketing ecosystem constantly evolving, MGEMS Marketing proves their ambition, versatility, and experience.
KENDALL PARK, N.J. (PRWEB) June 01, 2018
When MGEMS was created in 1999, it was just another small print shop offering business cards, postcards, and flyers to local clients. With almost 20 years of marketing experience under their belt, MGEMS has now evolved into MGEMS Marketing - a service hub for businesses looking to step up their marketing. With a new website, new services, and a new mindset, MGEMS Marketing is ready to show the small business world what they can do.
Although the business has expanded, MGEMS Marketing never forgets its roots as a print provider. Thanks to partnerships with USA Print Marketing and EDDM® Full Service, MGEMS Marketing offers an expansive catalog of reliable and affordable print services. Furthermore, their design skills are truly something to pay attention to. Their postcards, banners, and lawn signs all feature expertly designed graphics. Also, their online graphics are given the same level of detail and attention. More information on both can be found on the respective Print and EDDM® pages on their website.
MGEMS Marketing also assists brands looking to expand with their social media presence. They provide tailored strategies unique to each company and respective target audience. More specifically, they put a large focus on Facebook and Instagram and help companies grow their profiles there. To name a few of their services, MGEMS Marketing provides content curation, social ordering, and sweepstakes. For a full list of their social media solutions, they invite interested customers to visit their social media section of their site.
Today's internet and digital culture has made its mark on the marketing sphere as well. In response, MGEMS Marketing has gone above and beyond with their Digital Marketing services. In an attempt to truly master these fields, they have even gone out of their way to get certifications from the best in the online space. These means that they are Google Adwords certified, accredited Bing Ads professionals, and Yoast SEO certified. MGEMS Marketing has taken the time to study the digital marketing sphere, and are now ready to take advantage of all the things they have learned.
MGEMS Marketing keeps their physical office in Kendall Park, New Jersey. However, they are easy to reach by phone at 855-275-6436. Also, they make their presence known online on social media, where they are active on social media as @MGEMSMarketing on platforms like Facebook, Twitter, Instagram, LinkedIn, and Pinterest. They also encourage people to visit them on their new site mgemsmarketing.net to see a full list of all their services, partner companies, and other content businesses may find helpful to use.