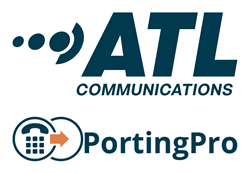 "Thanks to our staff, partners, and early adopters, and the industry experts who participated in our pre-release workgroup, PortingPro has proven to be the game changer we sought to create." - Mark Bilton-Smith, President/COO, ATL Communications
BEND, Ore. and VANCOUVER (PRWEB) June 06, 2018
ATL Communications, America's first and largest independent Responsible Organization (RespOrg), is proud to bring CLEC's, ILEC's, VoIP Providers, Wireless Carriers, and all local number porting administrators the innovative and modern platform for administering, automating, and streamlining the essential functions of local number porting aptly named PortingPro.
On May 21, 2018, iconectiv, the next Local Number Portability Administrator (LNPA) for the United States, announced the successful final regional cutover of the Number Portability Administration Center (NPAC) transition. (https://www.prnewswire.com/news-releases/iconectiv-completes-final-regional-transition-to-modern-cost-effective-secure-npac-300652072.html). ATL Communications' Kyle Belcher, Director of LNP, said, "We can all breathe easy now, as the transition was smooth and efficient." Customers who were on the PortingPro platform during the transition experienced limited pain points as the changes in guidelines, regulations, and rules were simplified and upheld within the PortingPro platform, as well as these processes were managed wholly by ATL Communications staff. "We wanted to make this transition seamless and hands-off for our current customers. That's the level of customer service we strive to provide," said Kyle Belcher.
ATL Communications can help you with every step of this otherwise complicated Local Number Porting process. From CSR/LSR to SV activation and every step in between. We provide intuitive, powerful, easy to use tools, in a cross platform browser interface (or API). This allows you to administer Local Number Pooling directly into NPAC. Whether you're looking for tools to increase productivity and empower your staff, to integrate your back office environment, or just need helping hands during an unexpected surge in business or employee loss, ATL has you covered! We can even provide a full hands-on administrative team to act as your outsourced LNP department. A new LNP option is long overdue and ATL Communications is leading the way with high tech solutions for an outdated and underserved Local Number Porting process.
Game Changing PortingPro Benefits:

Allow multiple logins from an intuitive browser interface, no more dongles or VPN's
Dashboard workflows that simplify the porting process while promoting a team environment
Purpose built checks and balances significantly reduce human error and bad data entries
Enable your team to work cohesively on multiple ports with user permissions and workflows that clearly identify the next step in the process on your dashboard
Allows cut and paste bulk port entries no matter which region the port is required in, no separations of regions per port required
Match the port work orders to your specific needs with PortingPro's flexible work order naming convention
Allow multiple SPID administration from a single interface
Provide management with vital reports that help your team perform at its best and ensure your customers get their ports administered in the fastest possible timeframe
Prevent number slamming
Save your business significant time, resources, and money while boosting morale and customer satisfaction
Increase productivity by more than 25%
Decrease fallout by up to 60%
Enhanced API integration to your currently deployed back office systems
Additional CSR / LSR / ICP solutions available