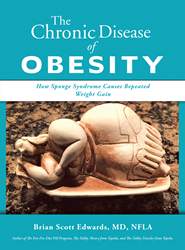 TOPEKA, Kan. (PRWEB) June 04, 2018
Brian Scott Edwards struggled with chronic obesity for years. It wasn't until he cracked the code—a combination of an ad libitum "eat until you're full diet" and diet pills— that he was able to maintain his dramatic weight loss.
In "The Chronic Disease of Obesity," Edwards chronicles his personal struggle with chronic obesity and details the foods, diet medications, and steps that he used to maintain his 80 pound weight loss for 11 years.
In the book, Edwards also details his Sponge Syndrome theory, which is where the number of retained fat cells in the chronically obese do not disappear, they shrink, therefore the body thinks it's starving because the leptin is low, which causes weight gain.
The book also addresses preventing larger problems caused by obesity, such as heart disease, cholesterol or sudden death.
"After struggling with my weight my entire life, I finally found what works for me and others," Edwards said. "All it takes are two things for the rest of your life—an ad libitum diet and diet pills."
In "The Chronic Disease of Obesity," readers who struggle with chronic obesity and weight loss can learn how to finally maintain their weight and therefore, improve their health and quality of life.
"The Chronic Disease of Obesity: How Sponge Syndrome Causes Repeated Weight Gain"
By: Brian Scott Edwards, M.D., FNLA
ISBN: 978-1-5320-4142-6 (sc); 978-1-5320-4143-3 (e)
Available at the iUniverse Online Bookstore and Amazon
About the Author
Brian Scott Edwards, MD, is certified in the American Board of Obesity Medicine. He lives in Florida and travels extensively. This is Edwards' fourth book focusing on obesity and cholesterol. For more about the author, please visit http://meandgin.blogspot.com.