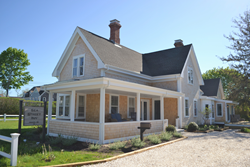 HYANNIS, Mass. (PRWEB) June 04, 2018
We are pleased to announce the grand opening of Sea Street Inn, a newly restored, modern luxury bed and breakfast in Hyannis, MA.
Sea Street Inn is an intimate, four-season bed and breakfast offering privacy and comfort to couples and a peaceful, curated setting for business travelers. Sea Street Inn's luxurious accommodations include three beautifully appointed guest rooms and two spacious suites. All rooms offer private bathrooms, air conditioning, flat-screen tv and wi-fi. Our thoughtfully appointed common areas offer comfortable and beautiful amenities, as well as our collection of museum quality photography on display. Our breakfast menu consists of a curated selection of fresh and delicious dishes based on seasonality, product availability and of course, guest preference.
Adrian D'Ambrosi, Co-Owner, Treasurer and Executive Chef of Sea Street Inn commented, "We are thrilled to have completed the restoration of this lovely historic property in beautiful Hyannis, Cape Cod. Now we look forward to providing our new guests with impeccable service and hospitality."
Xenia D'Ambrosi, Co-Owner and Chief Designer, added, "At Sea Street Inn, we focused on creating beautiful spaces both indoors and in the landscape that offer our bed and breakfast guests a retreat – one that is fresh, modern and unique to Hyannis."
Please visit http://www.seastreetinn.com for rates and additional information.
https://goo.gl/maps/okjZmgqGAVA2