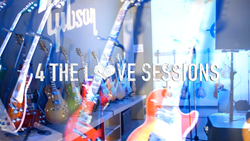 LOS ANGELES (PRWEB) June 01, 2018
Talented musicians Andrae Alexander (Detroit, Birth of A Nation, Empire) and Seven Bailey (American Idol, Kirk Franklin, Ms. Lauren Hill) of Omnes Records honor African-American Music Appreciation Month and welcome the new paradigm of denizens and tastemakers with "4 The Live Sessions", hosted by Gibson Guitars Thursday, June 7, 2018 at their Beverly Hills Showroom. Sponsored by Jack Daniels this is an exclusive evening of networking, entertainment, and escape as charity, creativity, art, and fashion are celebrated. Their goal is connectivity, bridging the gap between the arts and social change, and promoting collaboration as we raise money for charity.
"4 The Love Sessions" will have five exclusive stations: Station one includes a DJ and live performances from musical artists Manapoly, Lydia René, Mariah Maxwell, Uri Grey, Lanita Smith. Station two is a House of North Hollywood (NOHO) experience by recreating the barber lounge experience, with two celebrity barbers, two barber chairs, a cigar lounge, and Shoenova cleaning and shining station. Station three takes glamour to another level with Celebrity Makeup Artist, Lia Monet. While station four offers a Candy Bar, paintings for silent auction by Omarthan Clark, swag bags and gear from our sponsors Incase, Jack Daniels, Little White Lotus Studios and Omnes Records. Lastly, station five is set up for everyone to feel like a star and meet the press with a Step and Repeat and Selfie Station area.
The twenty dollar entry fee also includes open (tip) bar, with light refreshments. Omnes Records is so proud to be donating proceeds of the tickets to Taroté, a non-profit organization changing the lives of many by feeding homeless artist in the park in NOHO Park.
Buy Tickets Here:
https://www.eventbrite.com/e/4-the-love-sessions-tickets-46325751570
Website:
http://www.omnesrecords.com/
Latest Media:
https://www.huffingtonpost.com/entry/music-fashion-philanthropy-and-vr-converge-at-gibson_us_59551bf6e4b0c85b96c65fa4
"4 The Love Sessions Event Video"
https://drive.google.com/open?id=157ZpdXalCn9jUMQ56519PNmknFgcuuyY