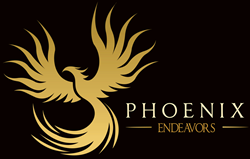 Phoenix Endeavors, Inc's motto is "Because everyone has a Phoenix story." JB Burrage explained, "We all have a story of where we tried, failed, and burned. But something came out of those ashes; a person with new goals, visions, and directions. This company wants to help tell those stories."
ATLANTA (PRWEB) June 04, 2018
A writer who always finds a way to reinvent himself, JB Burrage is announcing the launch of a new company to bring fresh creative and content writing projects: Phoenix Endeavors, Inc. Boutique and innovative, the Atlanta, Georgia based company will also manage his projects in theater, various media production, publishing, and other ventures.
Various project options will be offered by the company. They include writing stage plays, scripts, and articles. The company's full range of options can be found at https://jbburrage.com/writing-projects. The company will also pitch JB Burrage's ideas and projects throughout the performing arts industry.
A US Army veteran, JB Burrage first started writing as a child growing up in Meridian, Mississippi. By 2007, he became a self-published author, choosing independence over established publishers.
With independence and a boutique concept in mind, the company is a small business with a big vision. However, it isn't a rogue operation acting in the world alone. It's an example of team building and effort, and is constantly learning and evolving.
When asked about his reason for being a part of this venture, JB Burrage explained, "I love writing and when my military career of over ten years suddenly ended in 2010, I realized that I had to get serious about the writing business. I had a plan; but eventually, I saw that I was doing it completely wrong. This is my way of trying to do it right."
He continued, "The idea was always a no-brainer. But it wasn't easy to get here. It took years of research, school, sleepless nights, great successes and horrible failures, empty promises, the 'do something else with your life' speeches, and extreme mental highs and lows."
While he's excited about working on various projects, JB Burrage is tight-lipped about his personal projects.
"I don't talk a lot about what I'm doing," he said. "I've learned that it's better to show and prove than to making promises that you'll see a JB Burrage book/play/film on a certain date, without anything to back it up."
He continued, "The last time I did that, my credibility was questioned, and everybody was asking 'What are you really doing, JB?'. It was a huge disaster that made me question my career and life decisions. I was embarrassed. My audience didn't want excuses; they wanted me to deliver. I failed them."
"The only thing I'll tell you right now is that I have a lot of things coming together, and I'm building a great network to help me make them happen," he added. "Watch Phoenix Endeavors, Inc. If my company says something is coming, it's happening."
Information on JB Burrage, Phoenix Endeavors, Inc, and how to collaborate with him can be found at https://jbburrage.com.
About JB Burrage: JB Burrage joined the US Army in 1999, where he served until 2010. In 2005, he rediscovered his passion for writing, something that he thought he lost. Originally having an interest in science fiction, he's now focused on contemporary work. He has been actively writing since the mid-2000s, writing books, plays, and articles.