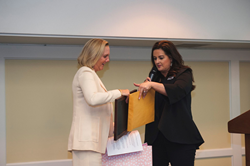 She makes significant contributions of time, talent and resources to individuals and organizations that have improved the quality of life for the people around her.
EVANSVILLE, Ind. (PRWEB) June 06, 2018
Attorney Gayle Gerling Pettinga, founder of Gerling Law, recently received the YWCA Tribute to Achievement honor. Each year the YWCA presents the Tribute to Achievement honor which recognizes an individual or an organization who has made a significant impact in the community and/or to the YWCA. Gayle is being honored for her impact to both. Recipients show a commitment to the YWCA's mission to eliminate racism, empower women, and promote peace, justice, freedom and dignity for all.
Mary Ellen Farabaugh had the honor of giving the speech at the tribute. In her speech, she highlighted a few basic principles she learned from Gayle including: continue to achieve at one's personal best; keep it simple; stay positive; read voraciously; family first; be tough; stay diverse and have a good sense of fair and a healthy sense of competition.
"She makes significant contributions of time, talent and resources to individuals and organizations that have improved the quality of life for the people around her," said Mary Ellen Farabaugh --- when awarding Gayle.
During this special tribute, Gretchen Gerling, Gayle's sister, read a proclamation by Evansville's Mayor Lloyd Winnecke, declaring May 17, 2018, as Gayle Gerling Pettinga Day. The proclamation, in part, states "Leaders like Gayle Gerling Pettinga impact our community by being role models in their professions and examples of inspiration in the world of volunteerism." The proclamation continues, "She is a true example to women in our community of what can be achieved when one leads with kindness, compassion, approachableness, and insight."
In addition to the YWCA, Gerling Law proudly sponsors the Dream Center Evansville. The center nurtures the potential of children in need from the Jacobsville area by providing transportation, nutritious snacks and a hot dinner, homework assistance, recreational activities and faith-based education.
Pettinga's daughters shared a letter for the event that reads, in part, "We have never heard you describe yourself as a philanthropist, which is funny, because that is definitely what you are, but to you it is simply doing what is right -- sharing time and resources with the people who surround you: your family, your employees, and your community."
About Gerling Law
For over five decades, Gerling Law has pursued justice and fair compensation for people who have been injured by someone's actions or neglect, along with people who can no longer support themselves because of an illness or injury. Practice areas include personal injury, medical malpractice and Social Security disability. Gerling Law has four locations: 519 Main Street, Evansville, IN 47708; 120 East Market Street, Suite 1271, Indianapolis, IN 46204; 4965 U.S. Highway 42, Suite 1000, Louisville, KY 40222; and 2645 Frederica Street, Suite 200-A, Owensboro, KY 42301. For more information, please call (888) 437-5464, or visit http://www.gerlinglaw.com.
About the NALA™
The NALA offers small and medium-sized businesses effective ways to reach customers through new media. As a single-agency source, the NALA helps businesses flourish in their local community. The NALA's mission is to promote a business' relevant and newsworthy events and achievements, both online and through traditional media. The information and content in this article are not in conjunction with the views of the NALA. For media inquiries, please call 805.650.6121, ext. 361.