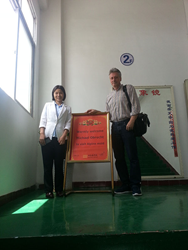 Our new contacts in China, both in Sales and Manufacturing, will improve our standing in international markets
SHENZHEN China (PRWEB) June 04, 2018
During a one week visit to Shenzhen, Michael Obrecht has established a number of new manufacturing links and reached an agreement to start a new sales office for Siborg in Southern China.
A number of companies had been visited, including PCB manufacturers and assembly companies as well as companies dealing with plastic mold and metal stamping. All of them are considered as future partners in manufacturing of the next generation of high-quality professional electronic test equipment under LCR-Reader trade mark.
For a work in progress, Shenzhen HTX Precision Hardware Co. was visited and issues with of manufacturing parts of the new LCR-Reader-MP were discussed.
A few PCB assembly companies had been visited, starting with ChinaPCBOne, a full cycle PCB manufacturer and assembly provider. Other PCB companies: Wanfeng Circuit Co., Shenzhen Sunsoar Circuit Co. and Shenzhen Eastwin Ltd. do not have their own PCB manufacturing facilities which the subcontract to third parties. The size of the companies varies from 50 to 300 people and they all show outstanding labor efficiency. They all have a reasonable SMT machinery park and offer a lead time of 5-7 weeks.
The following plastic mold manufacturers had been visited: Alpine Mold, Shenzhen Lafer Technology Co., and Dongguan Hensim Rubber & Plastic Technology Co. They are all small businesses, number of employees varying from 30 to 300 people offering a highly flexible arrangements for plastic part manufacturing for our new LCR-Reader-MP. Dongguan Hensim Rubber & Plastic Technology Co. seems to have a more advanced manufacturing capabilities but for our purposes all of them are acceptable so the cost becomes the main reason for picking the manufacturer.
Last, but not least, we had a series of meetings and discussions with Andy Leman, Entrepreneur in Baoan, Shenzhen, China. We also had two joint meetings in Shenzhen area with Shenzhen Politechnic and Souther University of Science and Technology where Andy was presented as Siborg's representative in China. Andy is going to be our primary distributor in China and all of the South East Asia for all of our products. Including the hardware: LCR-Reader and Smart Tweezers line of products as well as our educational Semiconductor Process and Device Simulation Software MicroTec.
For more info:
Shenzhen HTX Precision Hardware Co., LTD
Longgang District, Shenzhen, Guangdong,China
Lisa Zhu, International Sales Manager
Wanfeng Circuit(HK) CO.,LTD, POE Precision Electronics CO.,LTD
Futian District, Shenzhen, China
Rae, International Sales Director
Shenzhen Sunsoar Circuit Co.,Ltd, Sunsoar Precision Electronic(HK) Limited
Baoan District,Shenzhen,Guangdong,China.
Apple Gu, Sales Manager
Shenzhen Eastwin Ltd.
Longhua, Shenzhen, China
Zoe, Sales Manager
ChinaPCBone
Bao'an District, ShenZhen
Gary Xiao, CEO
Alpine Mold
Gongming Town, Shenzhen, China
Kerry Wei, Sales Manager
Shenzhen Lafer Technology CO.,LTD.
Baoan, ShenZhen, Guangdong, China
Kevin Jiang, Sales Manager
Dongguan Hensim Rubber & Plastic Technology Co., Ltd.
Dongguan, Guangdong, China
Alex Ouyang, Sales Manager
Andy Leman, Entrepreneur, Baoan, Shenzhen, China
The following products will be offered:
LCR-Reader-MP that offers the highest basic accuracy of 0.1% and functionality compared to any other product of this kind in the world. The device uses the same tweezer-probe functionality; it automatically determines the type of component and best test parameters before displaying all measurement values on the back-lit LCD display. Some features on the device include: automatic/manual L,C,R, ESR, LED/Diode and continuity tests, AC/DC voltage/current measurements up to 15 V, Signal Generator, two test signal levels with automatic test signal reduction, frequency meter, pulse period and duty cycle measurements, oscilloscope transient voltage display, variable test frequencies of 25, 100, 120 Hz, 1, 10, 20, 30, 40, 50, 60, 75 and 100 kHz, and Large Capacitance test mode up to 680 mF.
LCR-Reader is a basic model of LCR- and ESR-meter with a 0.5% basic accuracy. This model is controlled with a one-button navigation and is the most affordable and easiest to use multimeter. This model is now available with an NIST traceable calibration certificate thanks to a new calibration fixture.
Smart Tweezers are the original test-tweezer device. This device has a 0.2% basic accuracy and L,C, R, ESR, D, Q and Z measurements as well as Diode/Short testing, semi-automatic offset subtraction and variable test signals. The device will automatically determine the best test parameters before displaying results on an OLED display. Siborg also offers a Bluetooth enabled model of Smart Tweezers that adds remote recording of measurement values. When the Bluetooth device is connected with a PC, Android or iOS device, it will automatically send all measurement data in a comma-separated string of values. A new update to the device allows users to send data to the device via custom test profiles. The user can create a custom test profile which outlines what specifications a component must meet, i.e.: an impedance value. When the software receives the measurement data, it can grant the component a pass or fail if it meets the profile's specifications. The ability to remotely record the measurement data is an exceptional tool for incoming quality control.