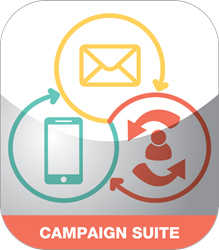 With Campaign Suite, we did 30% of our sales for the year after our first month! We definitely see the value of Campaign Suite and everything it has to offer.
PERU, Ill. (PRWEB) June 11, 2018
LKCS announces that its tremendously successful Campaign Suite direct mail enhancement has reached the one-year anniversary since the product's launch in May 2017.
Campaign Suite has significantly greatly improved LKCS' direct mail clients' response rates, when compared to direct mail campaigns that didn't include the add-on.
"LKCS' Campaign Suite includes four tremendous benefits for our customers. Mail tracking and call tracking are great. But the real magic lies in the online and social media follow up ads that reinforce the direct mail campaign's messaging on millions of web sites for each of our clients," says Sid Haas, LKCS Vice President of Business Development.
Campaign Suite uses a unique phone number to track the number of calls a company's mailing generates. Customers will review statistics including the number of calls made, length of those calls, and the dates and times those calls were initiated from their marketing campaign. Calls made to this number are recorded so that LKCS' clients can listen to them and continuously improve their sales process.
Using the intelligent mail barcode technology system, LKCS can track the mailing process of each direct mail campaign. Businesses can then log in to the online dashboard at any time to know exactly when mail pieces are due to arrive and confirm the accuracy of their mailing lists. Planning for the influx of inquiries and new customers just got easier.
Once the mail pieces are delivered, Campaign Suite utilizes automatic online follow-up advertisements through the Google and Facebook ad networks for 60-days after the direct mailing is sent. Every person who visits the company's website, following the direct mail campaign, is funneled into an automatic system that displays ads on millions of websites around the internet after each person leaves the site. Image ads that reinforce the campaign messaging that serve as a continuous reminder for mail recipients, driving them back to customers' web sites until they act.
LKCS' Campaign Suite is also very inexpensive – adding just pennies per direct mail piece. Due to this low cost, it has been proven to be tremendously cost effective. It is extremely easy to increase return-on-investment.
"After eight months in business, we decided to try Campaign Suite," says Brian Hoffman of BankTalentHQ. "With Campaign Suite, we did 30% of our sales for the year after our first month! We definitely see the value of Campaign Suite and everything it has to offer."
BankTalentHQ found that Campaign Suite's follow-up longevity allowed their customers to act on their advertisements over a span of 60 days. Direct mail only allowed their customers to see their message once. The company is now able to keep their brand on the minds of their prospects for a much longer span with Campaign Suite.
R.I.A. Federal Credit Union utilizes the data that has become available through Campaign Suite. They benefit from real-time data that allows them to gauge the effectiveness of different strategies and marketing messages.
Jake Ward, Vice-President of Marketing at R.I.A. Federal Credit Union acknowledges the success brought to them by Campaign Suite. "What we enjoyed most using Campaign Suite, was the availability of data that was current. Following the campaign's success while it's in progress is key so adjustments can be made. The analytics were easy to understand and report. We will definitely use it again!"
"We've began to see that Campaign Suite has enabled some people to get started with digital advertising who haven't use it before," says Haas, "Campaign Suite has also improved the online marketing efforts of customers who have previously used digital advertising in the past. Clients can now market better, at a lower cost, with real results."
About LKCS:
Based in Peru, Illinois, LKCS is the leader in providing end-to-end marketing, graphic design, commercial printing, direct mail, web development, and statement processing services to financial institutions. Combined with over 50 years of financial marketing expertise, LKCS leverages the latest technologies and techniques to improve marketing results and return on investment for our clients. We do that. Additional information about LKCS can be found at http://www.lk-cs.com.