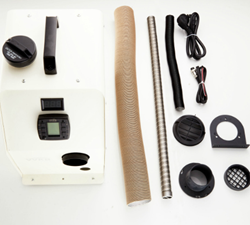 Wenzhou, China (PRWEB) June 04, 2018
Victor Industries Ltd. (VVKB), today patented the design of its VVKB Portable Parking, after successful application and registration by the European Union Intellectual Property Office. The VVKB Portable Parking Heater was registered on 08/05/2018, with a registration No. 005261765-0001.
This new design of the auxiliary parking heater is an improved version of VVKB Apollo-V Series and Apollo C Series Parking Heaters. VVKB auxiliary parking heater features a compact and good looking design, producing low noise and guarantees instant heating for comfortable environment even during freezing cold weather.
"VVKB Portable Parking Heater is one of our most successful designs of all time with a new look and excellent performance," said Mr. Eric Zhang, the VVKB CEO. "The main focus of this patented design being portability, ease of installation and even better heating capability and functionality."
The newly patented design of VVKB Portable Parking Heater can work for 10 to 24 hours and it's compatible with DC12V and AC110V or DC12V and AC230V, and it can also be customized into DC48V, DC72V or DC 96V. It is an all-in-one parking heater with the heating element, 5 liter fuel tank and control system in one casing.
With better control system, VVKB Portable Parking Heater runs a system safety auto diagnostic before and after the heating starts. It has an LCD controller for setting start and stop time of the heating process.
Better temperature control capability and ability to remotely turn ON/OFF the auxiliary parking heater makes it a perfect choice for most heating applications. Also, it has fuel display level, to know when to refuel the portable parking heater.
Additionally, the VVKB Portable Parking Heater has a USB interface for charging electronics. It is thus a perfect choice for most heating applications in tents, mobile houses, campervan, vehicles, trucks, etc.
Every VVKB Portable Parking Heater is CE, RoHS and FCC certified. They are lightweight, and available in different colors, sizes and heating capabilities, depending on the specific needs of VVKB clients.
About VVKB
Founded in the U.S., Victor Industries Ltd. (VVKB) has grown to be a global leader in designing, manufacturing and assembling parking heaters, engine heaters and fuel heaters. These are RoHS, CE and FCC compliant heaters that guarantee efficient and consistent heating.
Among the main products by Victor Industries Ltd. Include Apollo series parking heaters, Titan series engine heaters and Zeus series fuel heaters.
The latest in its product line is the VVKB Portable Parking Heater.
Contact information:
Name: Mr. Eric Zhang
Company: Victor Industries Ltd. (VVKB)
Address: 16192, Coastal Hwy, Lewes, DE, 19958, USA
Phone: +1 (678) 866-1888
Email: info@vvkb.com
Website: https://www.vvkb.com/heaters/portable-parking-heater/