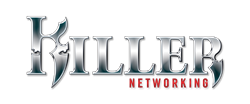 "Killer Wireless xTend allows customers to have a whole home wireless network experience without sacrificing their gameplay." - Joe Olmsted, Director, Alienware and Dell Gaming
AUSTIN, Texas (PRWEB) June 04, 2018
Rivet Networks, makers of the award winning line of high-performance Killer™ networking products for desktop and notebook PCs, is excited to announce the availability of its all-new Killer Wireless xTend technology, which can be found in systems from MSI, Dell, Acer, Clevo and Zotac.
Killer Wireless xTend introduces powerful MESH network capabilities into computers by leveraging the Killer Wireless-AC 1550 WiFi module to seamlessly clone and extend the home network. This allows Killer-enabled computers to expand the range of the home network and to give network access to nearby wireless devices. The Killer Wireless-AC 1550 Wi-Fi delivers fast and smooth gaming and entertainment experiences on PCs by prioritizing important Killer traffic such as games, voice, and video above other connected device traffic.
Killer Wireless xTend is fully integrated into the Killer Control Center. All it takes is a simple click of the button for Killer Wireless xTend to clone and extend the network it is connected to. Nearby devices will automatically connect to Killer Wireless xTend when it provides a stronger signal than the other access points. Users can choose the uplink back to the broadband network – it can be done over wireless or if the computer is using Killer DoubleShot Pro then Killer can deliver the connected devices' traffic over ethernet.
Wireless xTend continues the tradition of powerful, innovative features that users have come to expect from Killer Networking products. It works seamlessly with Killer's Advanced Stream Detect Technology that detects and accelerates the computer's most important network traffic such as game data to ensure the most critical packets never wait behind less important traffic. All Killer Networking products improve latency, reduces jitter, and virtually eliminate video freezes by prioritizing critical network traffic to help users enjoy their gaming, web surfing and streaming video experiences more than ever before.
"We are excited to continue our partnership with Rivet Networks, bringing their new Killer Wireless xTend technology to our Alienware Gaming PCs," said Joe Olmsted, Director, Alienware and Dell Gaming. "Killer Wireless xTend allows customers to have a whole home wireless network experience without sacrificing their gameplay."
"MSI is committed to providing our customers with best gaming and overall computing experiences possible, which is why we are excited to be working with Rivet Networks on bringing this cutting-edge technology to market. Killer Wireless xTend enables MSI systems to smartly extend the home network for a true Whole Home Wifi experience. Gamers will love this feature because MSI systems are now able to prioritize their own gaming network traffic above the traffic of other connected devices such as phones, tablets, and other computers. It is technology like this that makes us so excited and proud of our long partnership with Killer," said MSI's Eric Kuo, Vice President of Global Sales and Marketing.
"The Gaming PC is almost always the most powerful device in the home, and with Killer Wireless xTend you can now use it to extend your home wireless network while making sure your games and videos play fast and smooth," said Michael Cubbage, CEO at Rivet Networks. "Our promise has always been to deliver the very best network performance to our customers, and Killer Wireless xTend delivers this performance while simplifying and making your home network better for all devices.
For more information about Killer xTend, please visit http://www.killernetworking.com.
About Rivet Networks
Rivet Networks is a technology and products company that has focused on creating the best possible networking experience. Rivet offers a mix of hardware, software, and cloud-based technologies to deliver solutions that are both powerful and intuitive. Through their Killer™ line of networking products, Rivet Networks offers unprecedented speed, intelligence, and control for gamers and performance users alike. For more information about their Killer brand of technologies, please visit http://www.killernetworking.com.