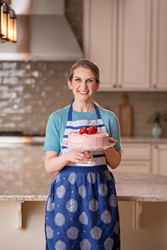 This is so much more than a quick one-minute recipe video. Our goal is to invite you into my kitchen, watch, learn, and have fun as I chat about some of the most popular recipes on my website.
PHOENIX (PRWEB) June 04, 2018
Cookbook author and creator Sally McKenney of the internet's top dessert destination, SallysBakingAddiction.com, is now bringing her love of baking to life in an eight-part, unscripted original video series, Sprinkled — created and produced by Grateful Ventures.
"I love the baking community my readers and I have built together," says Sally. "We're all behind our computers, tablets, and mobile screens, so I felt the need to open the doors so readers could see me in the kitchen, in my office, and home with my family."
The first episode will debut June 5, 2018, on both the Grateful.co website and at the Pinterest Creators Conference in San Francisco. The Pinterest event is the perfect backdrop to showcase how SallysBakingAddiction.com has become more than a blog: it's a brand.
A self-taught baker, Sally has created a dessert dynasty focused on authenticity and practicality for over 2.7 million baking enthusiasts each month.
Sprinkled, the series, features luscious production values and gives viewers a peek into Sally's home and everyday life as she shares tips and time-saving advice with the everyday home cook. Her goal is to make baking accessible, fun and absolutely delicious for everyone. But the food she's making is more than just delightful to eat — Sally works hard to create recipes that reflect her connection to her family and her fans.
"Users of Sally's Baking Addiction are always wanting more of Sally, because she is approachable and real — and makes them successful in the kitchen," says Kyle Cox, CEO of Grateful Ventures. "By creating an original series, we can allow a blogger's personality and skill to take center stage — to a degree much greater than a typical web video — while also taking user engagement and loyalty to a whole new level."
The inaugural episode "Strawberry Cake," takes viewers on a mouthwatering step-by-step journey to not only create this special cake, but to also hear Sally's very personal feelings about being a mom, work-life balance, and creating memories for her daughter. It also offers a front row seat to see just what it takes to get a recipe from the kitchen and on to SallysBakingAddiction.com.
Subsequent monthly episodes will air on Grateful.co, featuring recipes for treats like indulgent fudge brownies, strawberry shortcake, cookies for her annual Cookie Palooza event; pies for the holidays and more — all in a simple, step-by-step format that is easy to follow, and will suit anyone's baking abilities. And, rest assured: there are plenty of sprinkles along the way.
"This is so much more than a quick one-minute recipe video. Our goal is to invite you into my kitchen, watch, learn, and have fun as I chat about some of the most popular recipes on my website, the ideas behind them, and best practices to guarantee success," Sally says. "We sprinkled in plenty of baking tips, tricks and techniques, so you walk away with more than just a recipe."
Sprinkled is the first of several original video series that Grateful Ventures will be producing and launching in 2018.
"There is no better time to be an influencer aligned with Grateful," says Cox. "We believe that nurturing an authentic, personality-driven narrative between our influencers and their community builds a unique platform, empowering content creators to reach higher and higher. We are excited to launch more video series like Sprinkled, starring our team of Grateful creators."
About Grateful: Grateful Ventures, a Gannett Co. Inc. company and part of the USA TODAY NETWORK, is an online media and publishing coalition, focusing on building content and monetization strategies for high-value domains. Our creative collective brings together brightest minds in online media, with hard-earned expertise and deep intuition in business, design, development, branding, marketing, advertising, online media, videography and cinematography.
About Sally's Baking Addiction: One of the top food blogs in the United States, Sally's Baking Addiction (SallysBakingAddiction.com) is owned and operated by Sally McKenney. The site receives an average of 2.7 million monthly visits, and she is also an active influencer with 798,000 Facebook followers and 227,000 followers on Instagram.
NOTE TO EDITORS: The Grateful website URL ends in .co, and not .com. The correct URL for the Grateful lifestyle site is grateful.co.
Additional photography and social video assets are available by request.
For more information, contact Betsy Bailey at hello@grateful.co