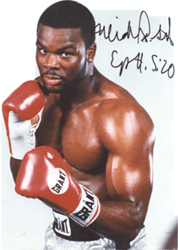 (PRWEB) June 03, 2018
Michael Gilburd, CEO of Boink Live Streaming Corp. http://www.boinklive.com, announced today that "Professional boxer, Michael Grant will be using the Bonk.be live Mobile streaming application to keep his fans and boxing protégés updated."
Michael Grant is a former World Boxing Federation Heavyweight Champion and world heavyweight title challenger. The pinnacle of Grant's boxing career came in 2000 when he challenged Lennox Lewis for the International Boxing Federation, World Boxing Council, and International Boxing Organization. Grant, who came in undefeated, lost that fight, though he has enjoyed a successful career as a boxing coach for up and coming contenders in the US, and as an actor, appearing in the epic Fox TV series, 24, and in its sequel, now in production.
Sean Green, VP of Business Development, also from Chicago, recalls Grant as a giant in Chicago high school sports, standing at 6'7". Before his boxing career, Mike blossomed into a three-sport star at Chicago's Harper High School. He was a right handed pitcher who drew attention from the Kansas City Royals, an imposing two-way player at tight end and defensive end on the football field and a front court force on the basketball court. Grant had great technique and skill, which made him probably the most popular of the many young, up and coming heavyweights in the mid-late 90's.
Working with Sean Green, his long-time colleague at American Express, Gilburd is excited about Mr. Green's enthusiasm to introduce athletes and entertainers who will seek to send their messages through the new version of Bonk.be live.
Bonk. be live is a tool for broadcasting live-streaming videos and watching others perform. With Bonk Live you can log in with a phone number, Facebook account, or Instagram account.
Bonk. be Live is the best App for Superstars, Performers and Aspiring Stars who want to keep their fans updated.
Bonk.be live Star Broadcasters: interact with fans all over the world, Professional athletes, Singers, Dancers, Motion picture stars, Famous DJ,S, Rappers, YouTube celebrities, Facebook top influencers, all Connect to millions of fans. While other broadcasters have fun online endeavouring to Become the next Bonk.be live star!