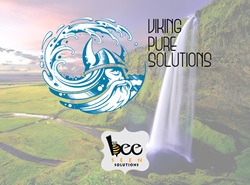 (PRWEB) June 05, 2018
Viking Pure Solutions is excited to announce that they have launched their new website; built and designed by BeeSeen Solutions. Viking Pure is the premier provider in electrolyzed water cleaning solutions, also known as 'e-water'. They are focused on redefining the future "to take the next step in the way humanity cares for itself." Their new website accurately illustrates their patented product, and the company's mission through a professional and clean design that is mobile responsive and user friendly.
E-water is a non-toxic solution that is more effective than the average chemical based cleaning product. It is not only less harmful to our health and our planet, but it is also more economical. The electrolyzed-water originates in nature and is the only of its kind that has no detectable salt in the final product; meaning that it can be used without the risk of corrosion. Viking Pure has created two forms of this solution that are being used as cleaning products in countless of industries including Healthcare Facilities, Food Services, Schools, Fitness and Health centers, and Retirement Communities among many more.
"Viking Pure Solutions is on a mission to change society's idea of a clean environment. As Alexander Fleming said of his greatest discovery: 'Nature made penicillin. I just found it.' It is in that spirit of inquiry and breakthrough, of science and innovation, that we at Viking Pure seek to carry on the great tradition of understanding nature and using it to change the world. It is an amazing time to be alive!" - Robert Slingsby, CEO
BeeSeen Solutions is a full service digital marketing agency located in Long Island, New York. Their team of successful entrepreneurs and designers have consistently helped transform start-up's into multi-million dollar companies both locally and nationally. They have been honored to work alongside Viking Pure Solutions to help promote their product and share their values through their new and improved website. Learn more about BeeSeen Solutions and how they can help your business succeed at http://beeseensolutions.com/
"We are excited to have been selected to build and design a website for an organization such as Viking Pure Solutions. They are a life changing organization that is focused on evolving societies idea of what a clean environment is all about. This is not just a company that is creating buzz about going green, this is a movement we are all lucky to be apart of. We are humbled to continue our work digitally in assisting these amazing and forward thinking minds to help the greater good of humanity everywhere." - Patrick Pinto, CMO BeeSeen Solutions
Learn more about Viking Pure Solutions and their revolutionary product and check out their new website at https://vikingpure.com/