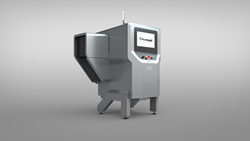 Our top-down X-Ray line-up represents the broadest and most-capable family of machines on the market. Our unique modularized architecture allows customers to select the optimum machine setup for their application while offering an affordable solution that provides extreme value to the end customer
SAN CARLOS, Calif. (PRWEB) June 04, 2018
Peco InspX, the world's leading authority on high performance X-Ray inspection equipment for the food and beverage industries is pleased to announce its presence at Expo Pack in Mexico City (June 5 – June 8). Peco InspX will be featured in the booth (number 616) of its distributor in Mexico, Vision Trade International (VTI).
Through its relationship with Vision Trade International, Peco InspX will be exhibiting several advancements in its X-Ray inspection portfolio for improved performance in food and beverage applications.
For glass inspection applications, Peco InspX now offers a family of 3 X-Ray systems (the SHIELD Trio, SHIELD Glissando and SHIELD Glissando Plus) that can inspect small jars of baby food all the way up to full sized wine bottles or gallon jars. These glass in glass systems can operate at speeds up to 1,500 containers per minute and detect metal contaminants down to 0.8 mm and glass contaminants down to 2.0 mm. Finally, Peco InspX is pleased to announce a specialized version of the Glissando Plus for beverage applications that features optimized bottle handling for beer bottles to facilitate superior inspection with the absolute smallest number of false rejects.
Additionally, Peco InspX continues to refine its SHIELD line-up of top-down systems the feature belt widths between 510 and 900 mm with aperture heights up 256 mm. "Our top-down X-Ray line-up represents the broadest and most-capable family of machines on the market. Our unique modularized architecture allows customers to select the optimum machine setup for their application while offering an affordable solution that provides extreme value to the end customer," remarked Rich Cisek, Peco-InspX CEO.
For more information on Peco InspX's advanced X-Ray inspection systems, please visit http://www.peco-inspx.com/solutions/x-ray-inspection/
For more information on Vision Trade International, please see: http://www.visiontrade.com.mx
About Peco InspX
Peco InspX Corporation is a leading provider of advanced technology inspection solutions for the food and beverage industries. With headquarters in Silicon Valley (San Carlos), CA and European headquarters in Nuneaton, UK, the company serves customers around the world and inspects over 120 million food and beverage containers daily. The company specializes in accurate high speed package inspection in machines that are easy to use with a low cost of ownership.