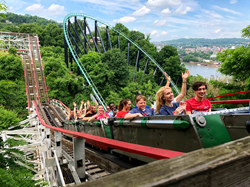 "Newer, flashier coasters may get more spotlight, but as far as we're concerned, Thunderbolt remains the King of Coasters," says Kennywood General Manager Jerome Gibas.
WEST MIFFLIN, Pa. (PRWEB) June 03, 2018
Fifty years of existence meant fifty consecutive trips on Kennywood's King of Coasters, the Thunderbolt, for three brave riders.
Ally Ackman, Dave Altman and Zac Hallenbeck embarked on their 50-ride marathon at 12:39 p.m. and pulled into the station after their final go-round at 5:03, requiring 4 hours and 23 minutes to finish their journey.
"It was very comfortable actually," says Altman. "I don't think you could have picked a smoother coaster to ride on for 50 rides."
"I thought it was going to be a little bit easier than it was," says Ackman. "It was definitely tiring, but it was worth it."
Fellow marathoner Zackery Franks completed 30 trips around the Thunderbolt before a brief break, coming back for the five rides.
"I had a blast, I really did," says Franks. "I was upset I got a little sick there in the middle but once I was feeling better, I was ready to hop back on."
Ackman and Franks were selected through Kennywood's Thunderbolt Ride Buddy Sweepstakes, winning a VIP Package of Kennywood tickets, food vouchers and merchandise. Altman and Hallenbeck earned the right to ride into history through the membership in the American Coaster Enthusiasts (ACE) Western Pennsylvania Chapter.
Built in 1968, the Thunderbolt took the place of the Pippin, which had stood since 1924. At the time of the coaster's opening, amusement park experts declared that roller coasters had fallen out of favor. However, the Thunderbolt led a 1970s coaster revival that took place across America and earned the number one nationwide ranking in a 1974 New York Times article titled, "The Quest for the Ultimate Roller Coaster."
"Newer, flashier coasters may get more spotlight, but as far as we're concerned, Thunderbolt remains the King of Coasters," says General Manager Jerome Gibas.
About Kennywood and Palace Entertainment:
Kennywood is America's Finest Traditional Amusement Park! The Pittsburgh-area park offers a unique mix of classic rides and modern thrills, including seven roller coasters, a 14-ride Kiddieland, and several attractions that cannot be found anywhere else. Kennywood, founded in 1898 and named a National Historic Landmark in 1987, continues to provide unforgettable fun for all ages.
Kennywood is owned and operated by Palace Entertainment, one of the leading leisure park operators in the United States. Palace Entertainment owns and operates 21 major entertainment venues across 10 different states, offering a wide range of family friendly rides, shows and attractions. For more information, please visit kennywood.com, or connect with us on Facebook, Twitter, and Instagram.